Girl With 3-D Printed Hand Will Throw Out First Pitch at the World Series
This seven-year-old is pitching at the World Series. What have you done today?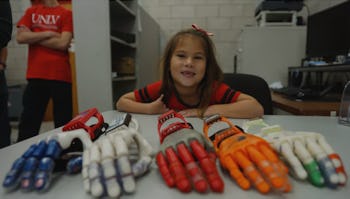 University of Nevada Las Vegas
Second grader Hailey Dawson is set to toss out the first pitch for Saturday's World Series game. When she makes her throw before the game between the Los Angeles Dodgers and Houston Astros, she will have some high-tech help in the form of her 3-D printed prosthetic hand.
The hand, developed by engineers at the University of Nevada, Las Vegas, makes it possible for Dawson to grab, grasp, and throw a ball, something her right hand is unable to do on its own. Dawson lost three fingers to Poland syndrome, which the National Institute of Health says causes "underdeveloped muscles on one side of the body."
Engineers at UNLV use a 3D printer to create the prosthetic, a process that has to be done repeatedly as the Las Vegas girl continues to grow. They made her first one three years ago, when she was four. According to a fundraising page the engineering department has set up, the printer machinery costs about $60,000 and each hand costs $5,000. The school says it aims to expand its work with prosthetics to help more children in the area.
The design, manufacturing, and many fittings required mean each prosthetic doesn't come quickly or easily, as the engineers say in their explanation of the process. Because Dawson wanted to be able to hold and throw, the engineers had to make a more technically complex hand. The prosthetic is first designed on computer software, then the model is given to the 3-D printer to create it using layers of plastic.
Dawson is no newcomer to first pitches, having previously thrown them at Major League Baseball games for the Baltimore Orioles and Washington Nationals. And because pitching at the World Series isn't enough, Dawson aims higher: She wants to throw the first pitch at every one of the 30 MLB ballparks.