Hugh Jackman Reveals What Role He'll Play in a 'Logan' Spin-Off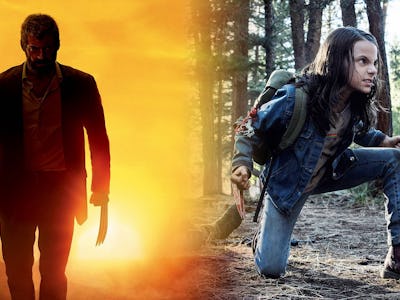 20th Century Fox
Logan brought many superhero fans to tears, and at least some part of the film's emotional weight was the knowledge that it really was the last time we were going to see Hugh Jackman's Wolverine after 17 years of playing the character. But we're still going to see other movies starring mutants with adamantium claws, as the director behind Logan recently said they're in the early stages of writing a script for a spin-off about X-23. Just don't expect to see Hugh Jackman on screen — or even behind the camera. He's really, really done with Wolverine.
As Logan begins to build Oscar buzz, the Hollywood Reporter published a feature on what's next for the people involved, and director James Mangold said he was looking towards a possible sequel starring Dafne Keen's Laura. The success of Patty Jenkins' Wonder Woman has him really excited.
"Patty's success with that film only solidifies more for studios that there's less to fear with a female protagonist," Mangold said. "The more that keeps getting hit home, that ends up giving me more space turning around and going, 'Well here we are with a female protagonist. That's incredible. And what are we going to do with her?' And that's where we are with that [Laura script] right now, dreaming."
Granted, "dreaming" is pretty far away from confirmation, but the THR story seems to confirm that there's at least some tentative work on an X-23 movie. Jackman, though, won't be involved at all should it come to pass.
"No, I won't be a producer on a Laura sequel," Jackman stated. "But, I will be lining up on the Thursday night at 10 p.m. to watch it though. She is just phenomenal."
Jackman has played Wolverine for almost two decades, so it'll be curious to see what a film involving a Wolverine-like character (in the comics, a slightly older Laura has officially adopted the Wolverine mantle) will look like without any of his input.
For his part, Jackman hopes he's not the last Wolverine.
"I hope it will be recast," he told the magazine.
There's still no official confirmation of a Logan spin-off, but the next X-Men movie, The New Mutants, hits theaters on April 13, 2018.
If you liked this article, check out this video of Hugh Jackman doing sound effects for Logan.