Who Will Win Denver Broncos vs. Kansas City Chiefs? A.I. Predicts
The Chiefs and Broncos both look to snap their skids.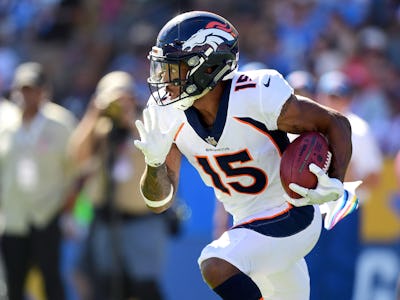 Getty Images / Harry How
The Kansas City Chiefs were the NFL's last unbeaten team, but they have since suffered consecutive losses and now look to regroup against the divisional rival Denver Broncos. A hive mind of about 30 NFL fans predict the Chiefs will do just that, picking them to win Monday.
It's not as though the Broncos are coming in red-hot either, as they're nursing a two-game losing streak of their own. And the Chiefs have hardly looked disastrous in recent weeks, dropping a 19-13 game to the perennially contending Pittsburgh Steelers and a wild 31-30 Thursday nighter to the Oakland Raiders. Still, now would be a very good time to right the ship, especially at home in Arrowhead Stadium.
Subscribe to the Inverse newsletter. Trust us, we're from the future.
To predict the result of this and other games, Unanimous A.I. used what's known as swarm intelligence to forecast the week's slate. More than 40 NFL fans worked together as a hive mind to make picks. As you can see in the animation below, each participant controlled a little golden magnet and used it to drag the puck toward the answer they thought was the most likely outcome. As the users saw the puck move toward a particular outcome, it triggers a psychological response. They readjust their decision-making, building toward a consensus. Here's Unanimous A.I. founder Louis Rosenberg explaining swarm intelligence at a recent TEDx Talk.
Unanimous A.I. has made some scarily accurate predictions in the past using swarm intelligence, as our previous article explains. For instance, the swarm went a perfect 7-0 in its most recommended picks for a recent English Premier League slate.
The swarm feels great about Kansas City, picking them to win with high confidence. A very strong 87 percent of the hive mind's collective brainpower was behind the pick, signaling little dissent.
The addition of the 7.5-point spread dropped the hive mind's confidence a bit, with them picking the Chiefs only with low confidence. The collective brainpower dropped to 80 percent, with a decent chunk thinking the Broncos can keep it within a touchdown. Best to approach this one carefully, then.
The game kicks off 8:30 p.m. Eastern Monday on ESPN.