Who Will Win Los Angeles Chargers vs. New England Patriots? A.I. Predicts
Tom Brady faces a tough test.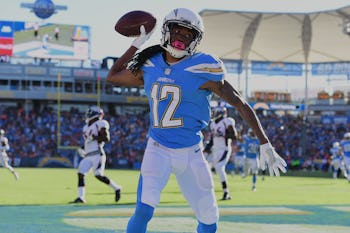 Getty Images / Harry How
The Los Angeles Chargers have a chance to claw all the way back to .500 at the season's halfway point by winning their fourth straight game. To do so, they only have to beat the defending Super Bowl champions, as they head to Massachusetts to face the New England Patriots Sunday. A hive mind of about 35 NFL fans predicts the Patriots will emerge victorious.
This season is the 25th anniversary of the only team to start 0-4 and make the playoffs, and the Chargers have to feel at least a twinge of kismet that the team that did it was the 1992 San Diego Chargers. The one big advantage the team brings to their game against the Patriots is a fearsome pass rush, which figures to make life as tough as it ever is for Patriots quarterback Tom Brady.
Subscribe to the Inverse newsletter. Trust us, we're from the future.
To predict the result of this and other games, Unanimous A.I. used what's known as swarm intelligence to forecast the week's slate. More than 40 NFL fans worked together as a hive mind to make picks. As you can see in the animation below, each participant controlled a little golden magnet and used it to drag the puck toward the answer they thought was the most likely outcome. As the users saw the puck move toward a particular outcome, it triggers a psychological response. They readjust their decision-making, building toward a consensus. Here's Unanimous A.I. founder Louis Rosenberg explaining swarm intelligence at a recent TEDx Talk.
Unanimous A.I. has made some scarily accurate predictions in the past using swarm intelligence, as our previous article explains. For instance, the swarm went a perfect 7-0 in its most recommended picks for a recent English Premier League slate.
The hive mind is fairly certain the Patriots will win here, though the confidence level is in question. As you can see, the swarm initially seems to err toward the high confidence pick before paying the Chargers the respect of a low confidence pick for New England instead. The 73 percent brainpower behind the prediction is low.
The Patriots need to win by at least eight points to cover the spread, and the swarm is again uncertain, though this time the split is between a low confidence pick for the Patriots and one for the Chargers. New England ultimately gets the nod, but again 71 percent brainpower isn't high.
The game kicks off 1 p.m. Eastern Sunday on CBS.