Who Will Win Carolina Panthers vs. Tampa Bay Buccaneers? A.I. Predicts
Resistible force, meet stoppable object.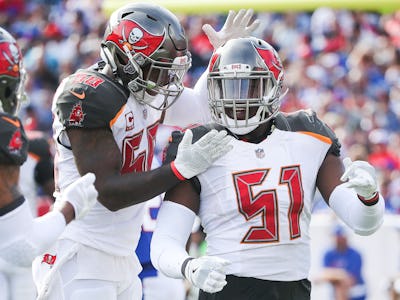 Getty Images / Tom Szczerbowski
The Tampa Bay Buccaneers have one of the worst defenses in the NFL, giving up more than 25 points per game. The Carolina Panthers offense was held to a field goal last week against the lowly Chicago Bears. Someone surely has to improve here, right? A hive mind of about 35 NFL fans predicts the Panthers will win Sunday.
The Panthers have at least generally looked the part this season, reaching a solid 4-3 with one of their losses coming against the league-best Philadelphia Eagles. The other two losses, though, have been a blowout against the New Orleans Saints and that inexplicable Bears loss, in which quarterback Cam Newton and the offense struggled to finish any drives. At least in Tampa Bay they have the ideal opponent to get their offense back into sorts.
Subscribe to the Inverse newsletter. Trust us, we're from the future.
To predict the result of this and other games, Unanimous A.I. used what's known as swarm intelligence to forecast the week's slate. More than 40 NFL fans worked together as a hive mind to make picks. As you can see in the animation below, each participant controlled a little golden magnet and used it to drag the puck toward the answer they thought was the most likely outcome. As the users saw the puck move toward a particular outcome, it triggers a psychological response. They readjust their decision-making, building toward a consensus. Here's Unanimous A.I. founder Louis Rosenberg explaining swarm intelligence at a recent TEDx Talk.
Unanimous A.I. has made some scarily accurate predictions in the past using swarm intelligence, as our previous article explains. For instance, the swarm went a perfect 7-0 in its most recommended picks for a recent English Premier League slate.
The hive mind likes Carolina here, though in a measured sort of way: It's a low confidence pick, though one the hive mind arrives at fairly swiftly, with 78 percent collective brainpower behind the pick.
Tampa Bay is favored by 2.5 points, which is enough to up the collective brainpower a tiny bit, as Carolina is now the low confidence pick with 80 percent collective brainpower behind it.
The game kicks off 1 p.m. Eastern Sunday on Fox.