Who Will Win Minnesota Vikings vs. Cleveland Browns? A.I. Predicts
Don't look now, but the Minnesota Vikings are looking good.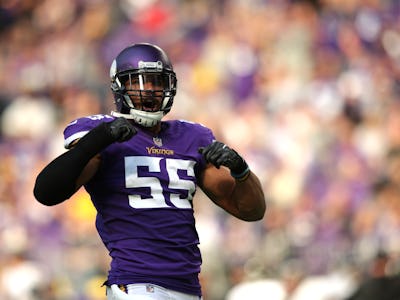 Getty Images / Adam Bettcher
The Minnesota Vikings are the quietest division leaders in the NFL, but there they sit atop the NFC North, ready to put some distance between them and their rivals with a win over the winless Cleveland Browns. A hive mind of about 35 NFL fans predicts the Vikings will do exactly that, picking them to win Sunday in London.
The Vikings have reached their division-leading 5-2 by surviving their own awful quarterback luck — Teddy Bridgewater has been out for more than a season and Sam Bradford has missed time — and benefiting from that of others, specifically the likely season-ending injury to Green Bay Packers quarterback Aaron Rodgers. The NFC North is there for the Vikings to take, and it's hard to imagine more of a gimme game than one against the 0-7 Cleveland Browns, who are dealing with injuries to an already talent-poor roster.
Subscribe to the Inverse newsletter. Trust us, we're from the future.
To predict the result of this and other games, Unanimous A.I. used what's known as swarm intelligence to forecast the week's slate. More than 40 NFL fans worked together as a hive mind to make picks. As you can see in the animation below, each participant controlled a little golden magnet and used it to drag the puck toward the answer they thought was the most likely outcome. As the users saw the puck move toward a particular outcome, it triggers a psychological response. They readjust their decision-making, building toward a consensus. Here's Unanimous A.I. founder Louis Rosenberg explaining swarm intelligence at a recent TEDx Talk.
Unanimous A.I. has made some scarily accurate predictions in the past using swarm intelligence, as our previous article explains. For instance, the swarm went a perfect 7-0 in its most recommended picks for a recent English Premier League slate.
The swarm likes Minnesota to win here without much trouble, picking them with high confidence and 90 percent collective brainpower behind the pick.
The 9.5-point line is a lot, especially considering the Browns have generally been able to keep their losses close — even if they do lose every last one of them. The swarm is split between picking the Vikings to cover with high or low confidence, ultimately opting with the latter at just 75 percent brainpower.
The game kicks off 9:30 a.m. Eastern Sunday on the NFL Network.