Here's the 4 Coolest Nintendo Switch Features in Update 4.0.0
Nintendo has made some big changes.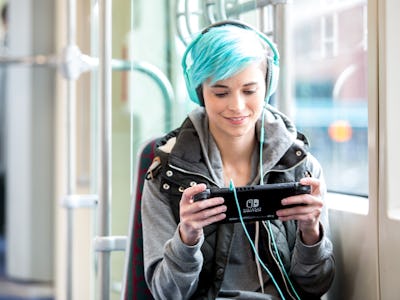 Nintendo
The Nintendo Switch got an update this week, and it brings some much-needed extras to the combination tablet and console released earlier this year. Ahead of big launches like Super Mario Odyssey and Metroid Prime 4, the company has brought some key extras that make video recording and game save transfer a breeze.
Updating to the new version is simple. In most instances, the Switch should update itself without any user intervention, but you can double check by going to "System Settings" on the home screen, then going to the "System" section. Under the "System Update" button it should say the current version: you can force an update by pressing "System Update."
Here's the four features you need to know about:
Pre-loading games
A pre-purchase option allows certain forthcoming titles to download data ahead of release. This system, popular on the PlayStation 4 and Xbox One, means as soon as the game is released players don't have to wait around for their game to download. No word just yet on whether this feature will work with Super Mario Odyssey, but fingers crossed.
Game video recording
Players can now capture small video clips during gameplay. Holding down the Capture button will save up to the past 30 seconds of footage, with the option to post the resultant footage to Facebook or Twitter.
At the time of writing, though, it only works with four games: The Legend of Zelda: Breath of the Wild, Mario Kart 8 Deluxe, ARMS, and Splatoon 2. Still, it's a start.
Here's a video captured using the new feature to show the quality:
Transfer user and save data to another system
Users can now follow on-screen instructions to move data from one Nintendo Switch to another. Head to "System Settings," then the "Users" panel, then "Transfer Your User and Save Data."
There's some caveats, though. The first Switch must have a linked Nintendo Account, and it cannot be linked to the target Switch. The target switch cannot have more than seven user profiles already present, both consoles must be on version 4.0.0 and connected to the internet.
If all that is true, Nintendo will let you move your data! It's a small step, but it could be the first toward more streamlined data backup.
"One step closer to cloud saves and sending messages on Switch!" said Reddit user KrazyNinjaFan.
Support for wireless USB headsets
One feature that's not listed on the official list of changes (but reported by Reddit user SoldierOfOrange) is that the USB port now supports wireless headsets like the official PlayStation set.
Note that this isn't the same as wireless Bluetooth headphone support — you need to plug a paired dongle into the Switch's USB port to get the headphones to work — but it suggests Nintendo may be open to opening up support further down the line. Just as long as interference and the like doesn't cause too slow a latency.