Who Will Win Cincinnati Bengals vs. Pittsburgh Steelers? A.I. Predicts
Can either team find some consistency?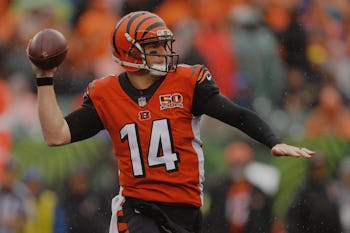 Getty Images / Michael Reaves
The Cincinnati Bengals are on the verge of scraping their way back to respectability after a disastrous start to the season. The Pittsburgh Steelers are looking to build on giving the Kansas City Chiefs their first loss. A hive mind of about 30 NFL fans predict the Steelers will win their game Sunday.
The Bengals have played their other two AFC North rivals, with wildly different results: a 20-0 season-opening shutout at the hands of the Baltimore Ravens, then weeks later a 31-7 blowout of the Cleveland Browns. The Bengals look to have fixed some of their early offensive woes, while the Steelers have been all over the place, beating the Chiefs while also losing to the Chicago Bears.
Subscribe to the Inverse newsletter. Trust us, we're from the future.
To predict the result of this and other games, Unanimous A.I. used what's known as swarm intelligence to forecast the week's slate. More than 40 NFL fans worked together as a hive mind to make picks. As you can see in the animation below, each participant controlled a little golden magnet and used it to drag the puck toward the answer they thought was the most likely outcome. As the users saw the puck move toward a particular outcome, it triggers a psychological response. They readjust their decision-making, building toward a consensus. Here's Unanimous A.I. founder Louis Rosenberg explaining swarm intelligence at a recent TEDx Talk.
Unanimous A.I. has made some scarily accurate predictions in the past using swarm intelligence, as our previous article explains. For instance, the swarm went a perfect 7-0 in its most recommended picks for a recent English Premier League slate.
The swarm likes Pittsburgh to win here, though it's probably best described as a medium confidence pick. The split between high and low confidence kept the collective brainpower at 73 percent, which is low, but very few are picking the Bengals.
The addition of the five-point line doesn't alter things too much — this time, though, it's a low confidence pick with 76 percent brainpower behind it.
The game kicks off 4:25 p.m. Eastern Sunday on CBS.