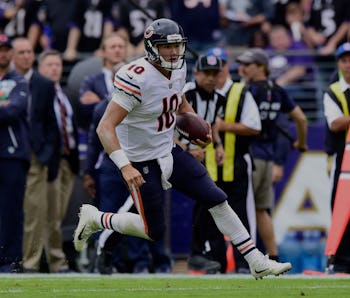 Innovation
Who Will Win Carolina Panthers vs. Chicago Bears? A.I. Predicts
It's the NFL's best young quarterback... and also Cam Newton! (We kid.)
Getty Images / Patrick McDermott
It's Mitch Trubisky fever — catch it! The University of North Carolina product and number one overall pick has looked solid in his first two games, getting his first win last week. Can he keep it going against a Panthers team that looks fully capable of rediscovering its 2015 Super Bowl form? A hive mind of NFL fans is doubtful, picking the Panthers to win Sunday.
If the Bears want to get the second win of the Trubisky era, they will need to get past a stout Panthers defense. Since it feels fair to say Trubisky isn't Cam Newton — who looked like a superstar even as a rookie — it's probably going to come down to how well the Bears can run against the Panthers, which… yeah, good luck with that. That's especially true when the Panthers have been something of a road juggernaut, putting up nearly double the points on the road as they have had at home.
Subscribe to the Inverse newsletter. Trust us, we're from the future.
To predict the result of this and other games, Unanimous A.I. used what's known as swarm intelligence to forecast the week's slate. More than 40 NFL fans worked together as a hive mind to make picks. As you can see in the animation below, each participant controlled a little golden magnet and used it to drag the puck toward the answer they thought was the most likely outcome. As the users saw the puck move toward a particular outcome, it triggers a psychological response. They readjust their decision-making, building toward a consensus. Here's Unanimous A.I. founder Louis Rosenberg explaining swarm intelligence at a recent TEDx Talk.
Unanimous A.I. has made some scarily accurate predictions in the past using swarm intelligence, as our previous article explains. For instance, the swarm went a perfect 7-0 in its most recommended picks for a recent English Premier League slate.
The hive mind has little doubt of the outcome here, picking the Carolina Panthers with high confidence and 80 percent brainpower, with most of the remainder just picking Carolina with low confidence.
The 3.5-point spread didn't change too many minds within the swarm, with the Panthers remaining the high confidence pick. The 78 percent brainpower isn't the highest, though.
The game kicks off 1 p.m. Eastern Sunday on CBS.