Who Will Win New Orleans Saints vs. Green Bay Packers? A.I. Predicts
Two teams headed in very different directions.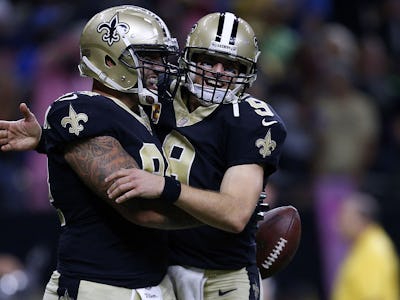 Getty Images / Jonathan Bachman
The New Orleans Saints were toast. The Green Packers were contenders. Oh what a difference a few weeks and a potentially season-ending injury makes, as the Saints head to Green Bay to face an Aaron Rodgers-less Packers team. A hive mind of NFL fans predicts New Orleans will win.
Backup quarterback Brett Hundley takes over Green Bay's offense in place of Aaron Rodgers, who broke his collarbone last week against Minnesota. It's a brutal loss for Green Bay, but it opens the door still further for the surging Saints, who have cobbled together just enough of a defense to let Drew Brees and the New Orleans offense get some wins.
Subscribe to the Inverse newsletter. Trust us, we're from the future.
To predict the result of this and other games, Unanimous A.I. used what's known as swarm intelligence to forecast the week's slate. More than 40 NFL fans worked together as a hive mind to make picks. As you can see in the animation below, each participant controlled a little golden magnet and used it to drag the puck toward the answer they thought was the most likely outcome. As the users saw the puck move toward a particular outcome, it triggers a psychological response. They readjust their decision-making, building toward a consensus. Here's Unanimous A.I. founder Louis Rosenberg explaining swarm intelligence at a recent TEDx Talk.
Unanimous A.I. has made some scarily accurate predictions in the past using swarm intelligence, as our previous article explains. For instance, the swarm went a perfect 7-0 in its most recommended picks for a recent English Premier League slate.
The swarm isn't ready to get behind a Brett Hundley-led Packers, picking the Saints to win with high confidence. The collective brainpower isn't super high at 77 percent, but most of the dissenters are just hedging with a low confidence Saints pick.
The Saints are favored by 5.5 points on the road, which says a lot about how crucial Rodgers was to Green Bay's success. The swarm is behind the Saints to cover, ultimately picking them with high confidence.
The game kicks off 1 p.m. Eastern Sunday on Fox.