Who Will Win Jacksonville Jaguars vs. Indianapolis Colts? A.I. Predicts
The Jaguars look to avenge a whole bunch of losses.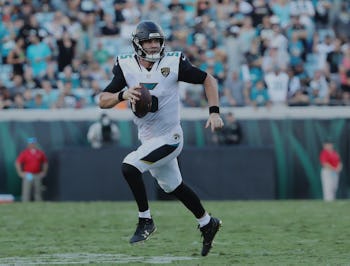 Getty Images / Sam Greenwood
The Jacksonville Jaguars sit at 3-3 on the year, which still makes them the most dangerous Jaguars team in about a decade. The Indianapolis Colts continue to struggle without injured quarterback Andrew Luck. A hive mind of about 30 NFL fans predicts the Jaguars will win their game Sunday.
If that's the case, it won't just mean the Jaguars doubled the win total from last year's 2-14 campaign in less than half a season. It will also mean they won their first game in Indianapolis in five years. Sure, the Colts aren't themselves without Luck, but then the Jaguars aren't who they used to be either. Rookie running back Leonard Fournette is the engine behind the NFL's best rushing attack, and any contributions from quarterback Blake Bortles could push the Jaguars to that next level.
Subscribe to the Inverse newsletter. Trust us, we're from the future.
To predict the result of this and other games, Unanimous A.I. used what's known as swarm intelligence to forecast the week's slate. More than 40 NFL fans worked together as a hive mind to make picks. As you can see in the animation below, each participant controlled a little golden magnet and used it to drag the puck toward the answer they thought was the most likely outcome. As the users saw the puck move toward a particular outcome, it triggers a psychological response. They readjust their decision-making, building toward a consensus. Here's Unanimous A.I. founder Louis Rosenberg explaining swarm intelligence at a recent TEDx Talk.
Unanimous A.I. has made some scarily accurate predictions in the past using swarm intelligence, as our previous article explains. For instance, the swarm went a perfect 7-0 in its most recommended picks for a recent English Premier League slate.
The hive mind is decisive in picking the road team to win here, choosing the Jaguars with high confidence and 84 percent collective brainpower behind the decision.
The addition of a three-point spread doesn't deter the swarm, as they again pick the Jaguars with high confidence and a reasonable 85 percent collective brainpower. This is quietly one of the hive mind's more definite picks this week.
The game kicks off 1 p.m. Eastern Sunday on CBS.