Who Will Win New York Jets vs. Miami Dolphins? A.I. Predicts
This game has playoff implications... somehow.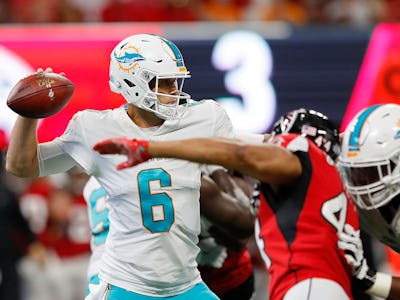 Getty Images / Kevin C. Cox
Against all odds, neither the New York Jets nor Miami Dolphins are terrible. Are they good? Honestly, maybe! And one of these teams has a chance to stay in the thick of the hunt in the AFC East when they meet Sunday. A hive mind of about 30 NFL fans are just deeply unsure which team is going to emerge victorious, though they're leaning toward the Jets.
It's a silly metric, maybe, but just consider how well each team fared in their games last week against the two teams from last season's Super Bowl. The New York Jets took the defending champion New England Patriots down to the wire, with some questionable officiating helping hand the Jets the eventual loss. And quarterback Jay Cutler came alive against the Atlanta Falcons, giving the Dolphins the much-needed upset victory.
Subscribe to the Inverse newsletter. Trust us, we're from the future.
To predict the result of this and other games, Unanimous A.I. used what's known as swarm intelligence to forecast the week's slate. More than 40 NFL fans worked together as a hive mind to make picks. As you can see in the animation below, each participant controlled a little golden magnet and used it to drag the puck toward the answer they thought was the most likely outcome. As the users saw the puck move toward a particular outcome, it triggers a psychological response. They readjust their decision-making, building toward a consensus. Here's Unanimous A.I. founder Louis Rosenberg explaining swarm intelligence at a recent TEDx Talk.
Unanimous A.I. has made some scarily accurate predictions in the past using swarm intelligence, as our previous article explains. For instance, the swarm went a perfect 7-0 in its most recommended picks for a recent English Premier League slate.
You can see the initial hesitation here, though the swarm does start pulling toward the low confidence Jets pick fairly early on. The eventual choice only has 72 percent brainpower behind it, though, so far from consensus.
The addition of a three-point line for the Dolphins to cover helped swing things in the Jets favor. They are still only a low confidence pick, but the collective brainpower boosted to 81 percent, suggesting the points made the swarm a lot more comfortable picking New York.
The game kicks off 1 p.m. Eastern Sunday on CBS.