Who Will Win Baltimore Ravens vs. Minnesota Vikings? A.I. Predicts
Are the Vikings putting things together?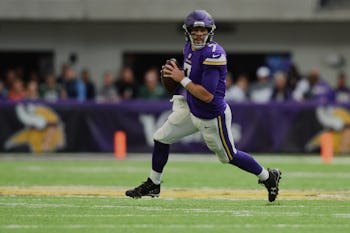 Getty Images / Hannah Foslien
The Minnesota Vikings looked lost when Sam Bradford went down with injury, but they have rattled off consecutive victories against division foes with backup Case Keenum. Can they get to a surprising 5-2 with a win over the Baltimore Ravens? A hive mind of about 30 NFL fans likes their chances, predicting the Vikings will win their game Sunday.
The big turning point, awful as it is, came in the Vikings' game last week against the Packers, when a hard hit on quarterback Aaron Rodgers handed him a potentially season-ending injury. That has opened up the NFC North for an upstart champion, and the Vikings could fit the bill if they find ways to keep winning. The Baltimore Ravens have had serious offensive woes of late, dropping three of their past four games.
Subscribe to the Inverse newsletter. Trust us, we're from the future.
To predict the result of this and other games, Unanimous A.I. used what's known as swarm intelligence to forecast the week's slate. More than 40 NFL fans worked together as a hive mind to make picks. As you can see in the animation below, each participant controlled a little golden magnet and used it to drag the puck toward the answer they thought was the most likely outcome. As the users saw the puck move toward a particular outcome, it triggers a psychological response. They readjust their decision-making, building toward a consensus. Here's Unanimous A.I. founder Louis Rosenberg explaining swarm intelligence at a recent TEDx Talk.
Unanimous A.I. has made some scarily accurate predictions in the past using swarm intelligence, as our previous article explains. For instance, the swarm went a perfect 7-0 in its most recommended picks for a recent English Premier League slate.
The swarm moved swiftly toward picking Minnesota, albeit only with low confidence. The 82 percent collective brainpower behind the pick represents decent consensus behind the choice.
The addition of the 5.5-point spread makes the swarm far slower to pick, ultimately going with Minnesota again with low confidence. The brainpower plummeted to just 63 percent, though, so stay far away from this one, basically.
The game kicks off 1 p.m. Eastern Sunday on CBS.