A Hotel Chain Owner Wants to Put an Inflatable 'Private Space Yacht' in Space by 2022
He's coming for you, Elon.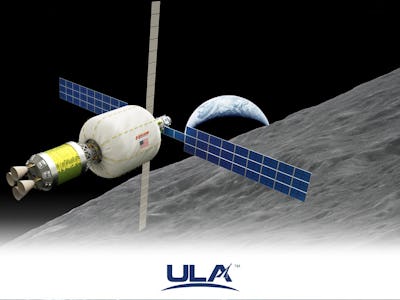 Move over Elon Musk and Richard Branson — hotel chain owner Robert Bigelow has entered the commercial space race, and introduced his idea for a low-orbit inflatable space pod where astronauts and tourists could stay.
On Tuesday, Bigelow Aerospace announced its plan to put a "commercial lunar depot" into low orbit around the moon by the end of 2022. The United Launch Alliance — a partnership between aerospace companies Lockheed Martin and Boeing — will take on the project alongside Bigelow Aerospace, whose namesake is also the owner of Budget Suites hotels.
The idea centers around an inflatable pod, known as the B330. Instead of an aluminum shell, the pod is soft-shelled and expandable, which gives the spacecraft "greater volume, safety, opportunity and economy" over aluminum-made ones, according to Bigelow Aerospace.
Bigelow and its partners are developing two stand-alone space stations for a 2022 launch. While the companies would start by sending uncrewed pods into orbit, the plan is for the spacecraft to eventually hold about six people. The B330 will supposedly have many different uses, Bigelow Aerospace says on its site. This includes using it as a hospital, a cafeteria, for farming, for military-grade applications, and of course, as a "private space yacht."
An initiative of this size of course comes with a hefty price tag, which the Washington Post estimates will total about $2.3 billion. Robert Bigelow seemed to suggest in a series of tweets Tuesday that NASA and the federal government would need to financially support the project in order for it to come to fruition.
This wouldn't be Bigelow Aerospace's first venture into space. One of its inflatable pods has been attached to the International Space Station since 2016 due to a private-public partnership with NASA. The Bigelow Expandable Activity Module may even stay in space past its two-year test run so NASA can gain a better idea whether the structure could "be actively used in storage and crew operations," the space agency says.
But remember: Robert Bigelow is the same guy who told 60 Minutes in May that he was "absolutely convinced" aliens have visited Earth and are currently chilling out in space in their UFOs waiting to return someday.
If you liked this article, check out this video on how Elon Musk became so popular.