20 of the Half Million (and Counting) #MeToo Stories of Sexual Assault
These stories show just how widespread the problem is.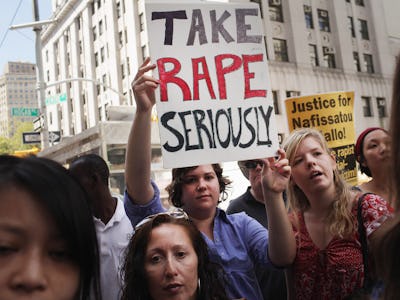 Getty Images / Spencer Platt
Social media became a place this week for women to unite over their experiences with sexual assault and demonstrate just how widespread the problem is among different communities, races, levels of income, workplaces, ages, and sexual orientation.
More than a half-million posts with the words "me too" have went up since actress Alyssa Milano called on women to share the phrase with this tweet Sunday afternoon:
However it seems that using "me too" to empower female-identifying folks to speak against sexual assault started years before Milano's tweet. A video on Instagram depicts women's rights activist Tarana Burke discussing her "Me Too" movement as a way for women to unite at a 2014 March Against Rape Culture in Philadelphia.
The two words have now been used in posts by celebrities and notable figures in a show of support, including Debra Messing, Sen. Kamala Harris, Dan Amboyer, Anna Paquin, Patricia Arquette, and Lady Gaga. Newsweek has a running list of those who have posted if you want to check it out.
But some users have gone beyond the two words to share their personal stories, and scrolling through a Twitter feed has become a sort of therapy session, as well as a way to make others feel less alone.
Here are some of the impactful stories folks have bit the bullet to share. But first, remember two things: if a person didn't post, it doesn't mean it hasn't happened to them, nor are they required to share their story. And these stories may be triggering to some.
1.
2.
3.
4.
5.
6.
7.
8.
9.
10.
11.
12.
13.
14.
15.
16.
17.
18.
19.
20.