"Pickle Dick" Stars in Horrifying 'Rick and Morty' Porn Parody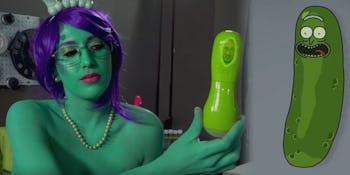 Adult Swim
While Rick and Morty isn't exactly the most savory show on television, there's a difference between dick jokes and actually putting Pickle Rick where the sun don't shine. Dick and Morty, a new porn parody featuring Rick, Morty, Unity, and more, is looking to scar you even more than Dan Harmon and Justin Roiland's hit Adult Swim show already has.
Porn sites WoodRocket and Pornhub are offering up the Rick and Morty porn parody in which Rick uses his newly penis-shaped portal gun to transport Unity, who was first introduced in the episode "Auto Erotic Assimilation," to Earth. She's angry with him at first, but she eventually starts begging for… um… Rick's "testicle-made Szechuan sauce."
As seen in the trailer for Dick and Morty, the two actors portraying the titular characters try to recreate Rick's gravelly voice and characteristic burps, as well as Morty's stutter and constant use of the term "ah, jeez."
The "uncut" version of the parody featuring "Pickle Dick" is only available for Pornhub Premium users, so you'll have to pay if you want anything that schwifty.
If you liked this article, check out this video on five steamy porn facts.