Jemele Hill's Cryptic Tweet Has People Wondering When She'll Be Back on ESPN
Is she hinting at more than a two-week suspension?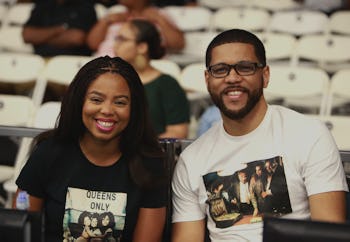 Getty Images / Leon Bennett
Jemele Hill posted on Twitter for the first time since Monday when ESPN announced her two-week suspension. In this recent tweet, the sports anchor sends a heartfelt message of appreciation to Michael Smith and might have hinted that her ties with the network are over.
Hill took to social media Tuesday afternoon to thank Smith, her co-host on SC6, which is the 6 p.m. hou of SportsCenter.
An ESPN spokesperson told Inverse it had "nothing new" to say since the statement it issued Monday, when the network announced on Twitter it had suspended Hill for violating its social media guidelines.
The sanction came after Hill criticized Dallas Cowboys owner Jerry Jones for saying he wouldn't play any football player that kneeled during the national anthem in the future. Hill suggested on Twitter that people opposed to Jones' statement could boycott the team's advertisers to show their unhappiness.
Hill's first social media violation, ESPN said, was "an impulsive tweet" in September in which she called Donald Trump a "white supremacist." Hill's tweet got lots of attention on Twitter, leading to ESPN sanctioning her and White House press secretary Sarah Huckabee Sanders calling it a "fireable offense."
However, the administration's comments on the matter didn't end there — Trump has taken to his infamous Twitter feed multiple times regarding Hill.
In an early morning post on Tuesday, Trump blamed Hill for the reason ESPN's ratings have "tanked so badly it is the talk of the industry."
Whatever the cause of the rating dip, Hill's "see you soon" suggests a potentially longer recess.