Who Will Win New York Giants vs. Denver Broncos? A.I. Predicts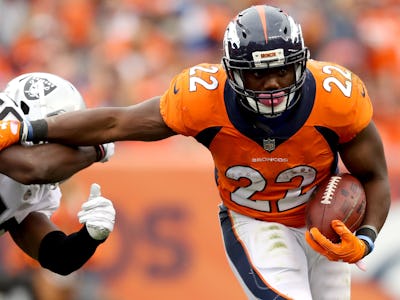 Getty Images / Matthew Stockman
The New York Giants are bad. They are winless through five weeks, and last week's game saw a rash of injury to their receiving corps, including star Odell Beckham Jr. With the Broncos rested after the bye, does New York stand any chance in Denver? A hive mind of about 30 NFL fans say no, picking the Broncos to win Sunday.
It's not as though the New York Giants were some offensive juggernaut before last week's injuries. They managed only 13 points in their first two games and have since settled into losing close games scoring in the low 20s. That's probably not going to cut it against the Broncos, which sport the best defense in the NFL and an offense that's more than good enough to deliver wins.
Subscribe to the Inverse newsletter. Trust us, we're from the future.
To predict the result of this and other games, Unanimous A.I. used what's known as swarm intelligence to forecast the week's slate. More than 40 NFL fans worked together as a hive mind to make picks. As you can see in the animation below, each participant controlled a little golden magnet and used it to drag the puck toward the answer they thought was the most likely outcome. As the users saw the puck move toward a particular outcome, it triggers a psychological response. They readjust their decision-making, building toward a consensus. Here's Unanimous A.I. founder Lloyd Rosenberg explaining swarm intelligence at a recent TEDx Talk.
Unanimous A.I. has made some scarily accurate predictions in the past using swarm intelligence, as our previous article explains. For instance, the swarm went a perfect 7-0 in its most recommended picks for a recent English Premier League slate.
The swarm feels very certain about this one, making the Broncos a high confidence pick to win with a high 93 percent collective brainpower behind the choice. Not much uncertainty here.
The addition of a massive 12-point spread makes the swarm a bit more trepidatious, with plenty of dissenters feeling New York will at least be able to keep this one to within 11 points or fewer. Ultimately the swarm can only pick the Broncos with low confidence and a very low 72 percent brainpower. Probably a game to avoid betting on, given the extreme line.
The game kicks off 8:30 p.m. Eastern Sunday on NBC.