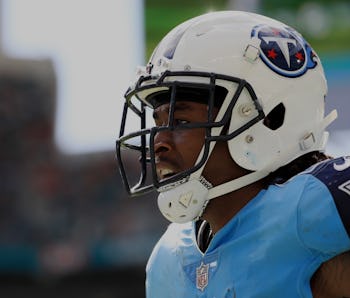 Innovation
Who Will Win Indianapolis Colts vs. Tennessee Titans? A.I. Predicts
Will a planned quarterback duel be an all-time dud?
Getty Images / Mike Ehrmann
It's not hard to see why the NFL schedule makers originally gave this game the coveted Monday night slot: Andrew Luck and Marcus Mariota, star quarterbacks of the AFC South, set to duel for supremacy. But with both injured and only Mariota with any shot of playing, this likely won't have quite the fireworks originally hoped for. But who will emerge victorious? A hive mind of about NFL fans thinks the Titans will win.
While this was about the earliest Luck could have maybe come back from his shoulder injury — he started practicing with the team a week ago, albeit in limited situations — Colts coach Chuck Pagano ruled him out definitively early in the week. Marcus Mariota's status is more up in the air, with it unclear how effective the third-year starter can be if he does play. With the team's offense severely limited with him out in the past two weeks, it's safe to say Tennessee needs him — or would against a team that itself isn't as limited as the Colts.
Subscribe to the Inverse newsletter. Trust us, we're from the future.
To predict the result of this and other games, Unanimous A.I. used what's known as swarm intelligence to forecast the week's slate. More than 40 NFL fans worked together as a hive mind to make picks. As you can see in the animation below, each participant controlled a little golden magnet and used it to drag the puck toward the answer they thought was the most likely outcome. As the users saw the puck move toward a particular outcome, it triggers a psychological response. They readjust their decision-making, building toward a consensus. Here's Unanimous A.I. founder Lloyd Rosenberg explaining swarm intelligence at a recent TEDx Talk.
Unanimous A.I. has made some scarily accurate predictions in the past using swarm intelligence, as our previous article explains. For instance, the swarm went a perfect 7-0 in its most recommended picks for a recent English Premier League slate.
All those lingering injury questions means there was no line available for this game, so just the straight-up pick will have to do. The swarm could only pick Tennessee with low confidence and 81 percent certainty, but a decent chunk of the dissenters were pulling toward the Titans with high confidence.
The game kicks off Monday at 8:30 p.m. Eastern on ESPN.
If you liked this article, check out this video of Bob Ross (and his happy little trees) as seen by Google's DeepDream.