Who Will Win Los Angeles Rams vs. Jacksonville Jaguars? A.I. Predicts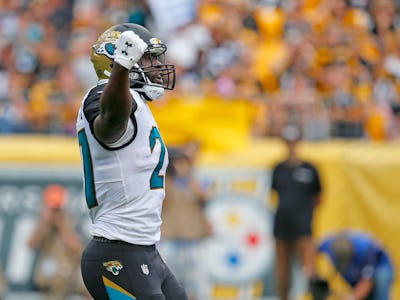 Getty Images / Justin K. Aller
Before the season, a mid-October tilt between the Jacksonville Jaguars and Los Angeles Rams would look like a snooze, a dull matchup between a pair of 2016's last-place teams. But both teams are a surprising 3-2 and have shown themselves capable of high-octane offense. A hive mind of about NFL fans picks the Jaguars to win Sunday.
The Rams and Jaguars have both managed to score at least 27 points in all but one of their games this season. Rookie running back Leonard Fournette has looked like a franchise centerpiece for the Jaguars, while Jared Goff and Todd Gurley have made major strides this season as the core of the Rams' offense. Los Angeles looks to bounce back from a deflating loss to the rival Seattle Seahawks, but still: If both teams show up ready to play, this should be a rollicking shootout.
Subscribe to the Inverse newsletter. Trust us, we're from the future.
To predict the result of this and other games, Unanimous A.I. used what's known as swarm intelligence to forecast the week's slate. More than 40 NFL fans worked together as a hive mind to make picks. As you can see in the animation below, each participant controlled a little golden magnet and used it to drag the puck toward the answer they thought was the most likely outcome. As the users saw the puck move toward a particular outcome, it triggers a psychological response. They readjust their decision-making, building toward a consensus. Here's Unanimous A.I. founder Lloyd Rosenberg explaining swarm intelligence at a recent TEDx Talk.
Unanimous A.I. has made some scarily accurate predictions in the past using swarm intelligence, as our previous article explains. For instance, the swarm went a perfect 7-0 in its most recommended picks for a recent English Premier League slate.
The swarm is decidedly undecided about this one, with only 77 percent collective brainpower behind the eventual low confidence pick of the home team. Take a look at that initial hesitation — this one really could go either way.
The addition of a line, even one as small as 2.5 points, is enough to drop the swarm's collective brainpower behind the pick still further, now down to 73 percent. This is pretty much the definition of a game to watch and enjoy rather than bet on, according to the swarm.
The game kicks off 4:05 p.m. Eastern Sunday on Fox.