Who Will Win Tampa Bay Buccaneers vs. Arizona Cardinals? A.I. Predicts
How much can Adrian Peterson do?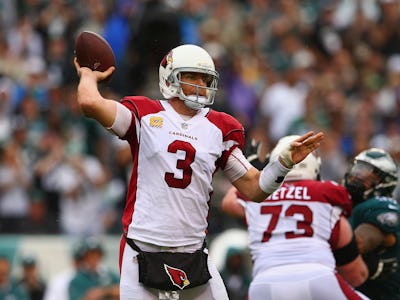 Getty Images / Mitchell Leff
The Arizona Cardinals have the oldest set of starters in the NFL, which means they can't afford to rebuild even after a dispiriting 2-3 start. They aren't getting any younger with the trade for veteran running back Adrian Peterson, but is he enough to get their season back on track? A hive mind of about 30 NFL fans is doubtful, picking the Tampa Bay Buccaneers to win in their game Sunday.
While it's not entirely correct to call Tampa Bay a youth movement — its opening day lineup ranked solidly in the middle of the pack in terms of age — it does have one of the youngest offenses in the NFL, led by third-year quarterback Jameis Winston. The Buccaneers are coming off of a tough loss to the New England Patriots, and both teams need a victory Sunday to stabilize their season.
Subscribe to the Inverse newsletter. Trust us, we're from the future.
To predict the result of this and other games, Unanimous A.I. used what's known as swarm intelligence to forecast the week's slate. More than 40 NFL fans worked together as a hive mind to make picks. As you can see in the animation below, each participant controlled a little golden magnet and used it to drag the puck toward the answer they thought was the most likely outcome. As the users saw the puck move toward a particular outcome, it triggers a psychological response. They readjust their decision-making, building toward a consensus. Here's Unanimous A.I. founder Lloyd Rosenberg explaining swarm intelligence at a recent TEDx Talk.
Unanimous A.I. has made some scarily accurate predictions in the past using swarm intelligence, as our previous article explains. For instance, the swarm went a perfect 7-0 in its most recommended picks for a recent English Premier League slate.
The swarm is only prepared to give Tampa Bay a low confidence pick, but there's a decent amount of the swarm's collective brainpower — 83 percent — behind the choice. Factor in the dissenters who were pulling toward a high confidence pick, and the vast majority of the swarm appears behind Tampa Bay here.
The addition of the two-point spread if anything pushed the swarm even further toward picking Tampa Bay, with the hive mind seemingly splitting the difference between a high and low confidence pick before settling on the latter.
The game kicks off 4:05 p.m. Eastern Sunday on Fox.