Who Will Win New England Patriots vs. New York Jets? A.I. Predicts
An unexpected battle of division leaders.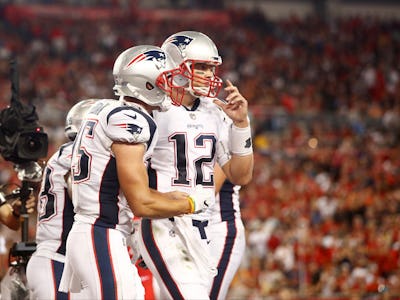 Getty Images / Brian Blanco
The New England Patriots and New York Jets meet Sunday to decide who — give or take the Buffalo Bills — will sit atop the AFC East. The fact the Jets are one upset away from moving ahead of the Patriots in the division is a serious shock. A hive mind of about 30 NFL fans pick the Patriots to win this one on the road.
The New York Jets started the season as an early favorite for the number one overall pick, but three straight wins have them in a three-way tie for the division lead. Sharing that spot is New England, which has shown some serious defensive deficiencies in their first five games. Never has the quality of a 3-2 record felt quite as in the eye of the beholder as it does heading into this game.
Subscribe to the Inverse newsletter. Trust us, we're from the future.
To predict the result of this and other games, Unanimous A.I. used what's known as swarm intelligence to forecast the week's slate. More than 40 NFL fans worked together as a hive mind to make picks. As you can see in the animation below, each participant controlled a little golden magnet and used it to drag the puck toward the answer they thought was the most likely outcome. As the users saw the puck move toward a particular outcome, it triggers a psychological response. They readjust their decision-making, building toward a consensus. Here's Unanimous A.I. founder Lloyd Rosenberg explaining swarm intelligence at a recent TEDx Talk.
Unanimous A.I. has made some scarily accurate predictions in the past using swarm intelligence, as our previous article explains. For instance, the swarm went a perfect 7-0 in its most recommended picks for a recent English Premier League slate.
There's a decent-sized consensus around the Patriots to win, as the swarm picked them with high confidence and 81 percent brainpower.
This game has a huge spread, especially when it's the road team that needs to cover, the teams are division rivals, and they at least theoretically have identical records. That explains the swarm's relative trepidation in picking the Patriots — who, for all their defensive issues, have still given us no real reason to not think they are an order of magnitude better than the Jets. The swarm could only make this a low confidence pick, with 79 percent collective brainpower.
The game kicks off 1 p.m. Eastern Sunday on CBS.