Who Will Win Detroit Lions vs. New Orleans Saints? A.I. Predicts
Two offenses are set to clash.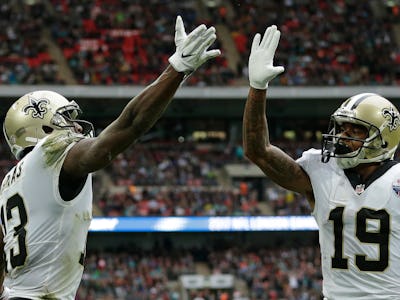 Getty Images / Henry Browne
The New Orleans Saints looked lost to start the season, but a couple victories have them back on track and potentially ready to make a move. The Detroit Lions are a solid 3-2 against a decent schedule. A hive mind of about 30 NFL fans predicts the Lions will win Sunday.
With both these teams, offense is their calling card: In their nine combined games so far, the teams have scored at least 19 points in eight of them. The Saints managed to discover just enough defense to give their offense a chance to win in recent weeks — including a 20-0 shutout of the Miami Dolphins — while the Lions and highest paid quarterback Matthew Stafford have found themselves on both the winning and losing end of shootouts against good teams.
Subscribe to the Inverse newsletter. Trust us, we're from the future.
To predict the result of this and other games, Unanimous A.I. used what's known as swarm intelligence to forecast the week's slate. More than 40 NFL fans worked together as a hive mind to make picks. As you can see in the animation below, each participant controlled a little golden magnet and used it to drag the puck toward the answer they thought was the most likely outcome. As the users saw the puck move toward a particular outcome, it triggers a psychological response. They readjust their decision-making, building toward a consensus. Here's Unanimous A.I. founder Lloyd Rosenberg explaining swarm intelligence at a recent TEDx Talk.
Unanimous A.I. has made some scarily accurate predictions in the past using swarm intelligence, as our previous article explains. For instance, the swarm went a perfect 7-0 in its most recommended picks for a recent English Premier League slate.
The swarm likes Detroit here, though only with low confidence. The collective brainpower behind the pick is only 73 percent, with plenty thinking New Orleans will win, so this is close to a toss-up.
The addition of the line, in which New Orleans is favored by 4.5 points, clarifies things quite a bit for the swarm. In that case, it remains a low confidence pick, but the collective brainpower jumps to 84 percent, suggesting more certainty — though, yes, still not a whole lot.
The game kicks off 1 p.m. Eastern Sunday on Fox.