Google's Pixelbook Can Help Identify Unknown Faces and More
Google just unveiled some impressive new technologies.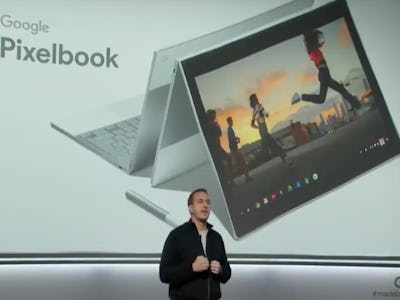 Google
Google unveiled its Pixelbook laptop-tablet hybrid on Wednesday, but it had an A.I.-powered trick up its sleeve. The Pixelbook Pen, an optional $99 accessory that pairs with the $999 laptop, will use the Google Assistant to provide smarter suggestions about onscreen content — including identify any Google-able faces you might come across.
"Just hold the pen's button, and circle an image or text on the screen, and the assistant will take action," Matt Vokoun, director of product management at Google, said on stage at a company presentation in San Francisco.
The results are incredible. When working on an essay, you can circle a word you don't understand, and Google will pop up with a breakdown of the concept, meaning a student doesn't need to leave the page to look something up.
The technology really comes into its own with image-based recognition, though. When browsing through a blog, you can circle the face of someone you don't recognize. Google Assistant will identify that person and provide links to their work across social media:
Vokoun used the example of musician Tiggs Da Author, suggesting it can identify people with some degree of public presence of Google, as opposed to literally anybody. Still, the presentation left the exact reach of the search function unclear.
Either way, he implications for this are amazing. No more awkwardly messaging friends, asking them "who this guy is" when you really should know. Alternatively, no more frantic Google searching to try and work out who that one guy in a movie screenshot is.
The pen also uses machine learning for improved handwriting recognition. Beyond the artificial intelligence features, the pen serves as a regular stylus that's handy for writing, drawing or taking notes. The team partnered with Wacom to create the "fastest" stylus on the market. 10 milliseconds of latency, 60 degrees of angular awareness and over 2,000 levels of pressure sensitivity.
The laptop itself has a 12.3-inch display that flips round to turn into a tablet. There's two USB-C ports for charging, a seventh-generation Intel Core i5 processor, 8GB of RAM and 128GB of storage. The device will start shipping October 31 in the United States, United Kingdom and Canada.
Scientists want to build a quantum computer the size of a soccer field. Check out this video to find out more.