Who Will Win Minnesota Vikings vs. Chicago Bears? A.I. Predicts
It's Mitch Trubisky time!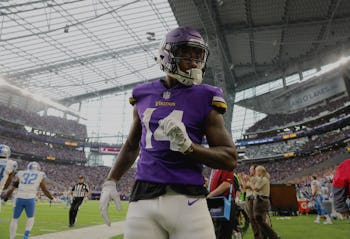 Getty Images / Adam Bettcher
The Chicago Bears, fresh off a rout at the hand of the Green Bay Packers, are ready to throw caution to the wind and unshackle their number one overall draft pick. It's Mitch Trubisky time on Monday night as the Bears welcome the Minnesota Vikings to Soldier Field. A hive mind of about 30 NFL fans don't see the best start for Chicago's new quarterback, predicting the Vikings to win the game.
The Minnesota Vikings have had to make their own quick quarterback transition, with an injury to Sam Bradford forcing the team to switch to journeyman Case Keenum. (Plus poor Teddy Bridgewater is still out there somewhere, rehabbing an injury he suffered before the 2016 season.) The Vikings have cobbled together a bit of success after having to go with Keenum, though Bradford is expected back Monday. For their part, the Bears are hoping Trubisky can give the team some spark after a brutal loss to the Packers.
Subscribe to the Inverse newsletter. Trust us, we're from the future.
To predict the result of this and other games, Unanimous A.I. used what's known as swarm intelligence to forecast the week's slate. More than 40 NFL fans worked together as a hive mind to make picks. As you can see in the animation below, each participant controlled a little golden magnet and used it to drag the puck toward the answer they thought was the most likely outcome. As the users saw the puck move toward a particular outcome, it triggers a psychological response. They readjust their decision-making, building toward a consensus. Here's Unanimous A.I. founder Lloyd Rosenberg explaining swarm intelligence at a recent TEDx Talk.
Unanimous A.I. has made some scarily accurate predictions in the past using swarm intelligence, as our previous article explains. For instance, the swarm went a perfect 7-0 in its most recommended picks for a recent English Premier League slate.
The hive mind feels pretty good about the Vikings, picking them with high confidence and 80 percent brainpower behind the pick. While 80 percent isn't especially high, most of the dissent is just those looking to pick Minnesota with low confidence.
The addition of a relatively small three-point spread dropped the hive mind's certainly considerably, bringing it to low confidence and 76 percent brainpower.
The game kicks off 8:30 Eastern Monday on ESPN.