Who Will Win Kansas City Chiefs vs. Houston Texans? A.I. Predicts
Can the Chiefs stay undefeated?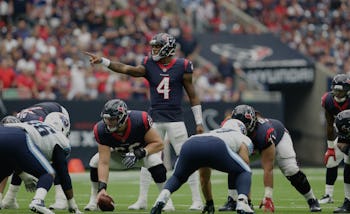 Getty Images / Tim Warner
Hands up, who predicted the Kansas City Chiefs would, after just four weeks, be the NFL's last undefeated team? They look to keep their spotless record intact against a Houston Texans team coming off a monstrous win. A hive mind of NFL fans think the Chiefs have still got this, predicting a win on Sunday.
Buoyed by their opening night win over the New England Patriots, the Chiefs have put together consistent wins over the competition, with Coach Andy Reid getting more than expected out of quarterback Alex Smith and the rest of the offense. Houston, for its part, just beat the Tennessee Titans 57-14. They might bring some offense to the table, too.
Subscribe to the Inverse newsletter. Trust us, we're from the future.
To predict the result of this and other games, Unanimous A.I. used what's known as swarm intelligence to forecast the week's slate. More than 40 NFL fans worked together as a hive mind to make picks. As you can see in the animation below, each participant controlled a little golden magnet and used it to drag the puck toward the answer they thought was the most likely outcome. As the users saw the puck move toward a particular outcome, it triggers a psychological response. They readjust their decision-making, building toward a consensus. Here's Unanimous A.I. founder Lloyd Rosenberg explaining swarm intelligence at a recent TEDx Talk.
Unanimous A.I. has made some scarily accurate predictions in the past using swarm intelligence, as our previous article explains. For instance, the swarm went a perfect 7-0 in its most recommended picks for a recent English Premier League slate.
You can see the swarm doesn't make up its mind immediately, but it does ultimately pick the Chiefs with high confidence. The 82 percent brainpower isn't especially high, but you can see relatively few dissenters are choosing the Texans outright.
Since the line is even, this is essentially just re-picking who will win the game straight up. Odd then that the swarm actually feels considerably more confident here, with 90 percent brainpower behind the high confidence pick.
The game kicks off 1 p.m. Eastern Sunday on CBS.