Who Will Win Indianapolis Colts vs. San Francisco 49ers? A.I. Predicts
The 49ers look to leave the ranks of the NFL's winless.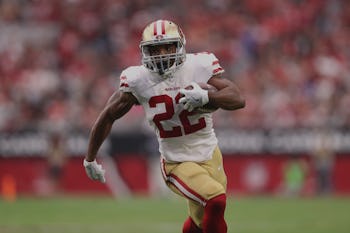 Getty Images / Christian Petersen
The San Francisco 49ers probably deserve a win right now, with a string of close losses after a season-opening blowout defeat. Can they get it against an Indianapolis Colts team that's still very much without star quarterback Andrew Luck? Bad news for the 49ers: A hive mind of about 30 NFL fans picks the Indianapolis Colts to win Sunday.
Seriously, look at these losses for the 49ers: 12-9 to the Seattle Seahawks, 41-39 to the Los Angeles Rams, 18-15 to the Arizona Cardinals. That's three games to division opponents, three losses by a combined eight points. Given the Colts only have a 31-28 victory over the winless Cleveland Browns to their credit, they seem like a team the 49ers ought to be able to beat, especially in Santa Clara.
Subscribe to the Inverse newsletter. Trust us, we're from the future.
To predict the result of this and other games, Unanimous A.I. used what's known as swarm intelligence to forecast the week's slate. More than 40 NFL fans worked together as a hive mind to make picks. As you can see in the animation below, each participant controlled a little golden magnet and used it to drag the puck toward the answer they thought was the most likely outcome. As the users saw the puck move toward a particular outcome, it triggers a psychological response. They readjust their decision-making, building toward a consensus. Here's Unanimous A.I. founder Lloyd Rosenberg explaining swarm intelligence at a recent TEDx Talk.
Unanimous A.I. has made some scarily accurate predictions in the past using swarm intelligence, as our previous article explains. For instance, the swarm went a perfect 7-0 in its most recommended picks for a recent English Premier League slate.
The hive mind favors the Colts here, though not by a lot, picking them to win with low confidence and 76 percent brainpower.
The addition of a 1.5-point line doesn't affect things too much, with the Colts again picked to win with low confidence and this time 75 percent collective brainpower. Nobody's exactly commanding rapturous support in this one.
The game kicks off 1 p.m. Eastern Sunday on CBS.