Who Will Win Carolina Panthers vs. Detroit Lions? A.I. Predicts
Two 3-1 teams look to make a move.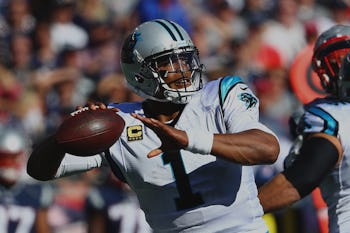 Getty Images / Maddie Meyer
The Carolina Panthers notched the biggest win of their young season last week by knocking off the New England Patriots. The Detroit Lions are looking increasingly solid at 3-1. The latter has been enough to earn the respect of a hive mind of about 30 NFL fans, as it's predicting the Lions will win at home Sunday.
Panthers quarterback Cam Newton made headlines for the wrong reasons this past week after making sexist comments to a female reporter. That definitely overshadows how good Newton looked in leading the Panthers to a 33-30 win over the Patriots. The Lions, for their part, haven't necessarily had that one game where they seemed to put it all together, but three wins in four weeks is a solid start for them to build on as Matt Stafford and company keep figuring things out.
Subscribe to the Inverse newsletter. Trust us, we're from the future.
To predict the result of this and other games, Unanimous A.I. used what's known as swarm intelligence to forecast the week's slate. More than 40 NFL fans worked together as a hive mind to make picks. As you can see in the animation below, each participant controlled a little golden magnet and used it to drag the puck toward the answer they thought was the most likely outcome. As the users saw the puck move toward a particular outcome, it triggers a psychological response. They readjust their decision-making, building toward a consensus. Here's Unanimous A.I. founder Lloyd Rosenberg explaining swarm intelligence at a recent TEDx Talk.
Unanimous A.I. has made some scarily accurate predictions in the past using swarm intelligence, as our previous article explains. For instance, the swarm went a perfect 7-0 in its most recommended picks for a recent English Premier League slate.
The swarm is behind the Lions with reservations. It's a low confidence pick with just 76 percent brainpower, though you can see a decent chunk of that dissent is actually pulling toward the Lions with high confidence.
The Lions need to cover at least a field goal to cover the spread, and the swarm is actually slightly more behind Detroit to do that, with 80 percent brainpower behind the low confidence pick. Even then, best to consider this one pretty close to a toss-up.
The game kicks off 1 p.m. Eastern Sunday on CBS.