Who Will Win New England Patriots vs Tampa Bay Buccaneers? AI Predicts
Is it... time to doubt the Patriots?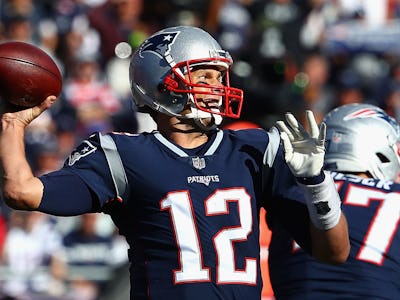 Getty Images / Maddie Meyer
The champion New England Patriots have looked shaky through the first quarter of the season, losing two games and needing a comeback to win another. Could the rising Tampa Bay Buccaneers drop them to 2-3? A hive mind of about 30 NFL fans still backs the Patriots, but only barely.
While Tom Brady and the Patriots offense have more or less looked like themselves through four games, the defense has proven a liability for New England. The Buccaneers, for their part, have scored at least 25 points in every game this season, with third-year quarterback Jameis Winston continuing to develop as the focal point of Tampa Bay's offense. This could spell trouble for the Patriots as they head to Florida.
Subscribe to the Inverse newsletter. Trust us, we're from the future.
To predict the result of this and other games, Unanimous A.I. used what's known as swarm intelligence to forecast the week's slate. More than 40 NFL fans worked together as a hive mind to make picks. As you can see in the animation below, each participant controlled a little golden magnet and used it to drag the puck toward the answer they thought was the most likely outcome. As the users saw the puck move toward a particular outcome, it triggers a psychological response. They readjust their decision-making, building toward a consensus. Here's Unanimous A.I. founder Lloyd Rosenberg explaining swarm intelligence at a recent TEDx Talk.
Unanimous A.I. has made some scarily accurate predictions in the past using swarm intelligence, as our previous article explains. For instance, the swarm went a perfect 7-0 in its most recommended picks for a recent English Premier League slate.
This is not the kind of support you expect the New England Patriots to get, with a relatively low 81 percent brainpower behind that slow-developing low confidence pick. That said, you can see a lot of the dissent is actually trying to pull toward the high confidence Patriots pick. Either way though, this isn't nearly the same kind of support New England enjoyed from the swarm at the beginning of the season.
The hive mind is even less certain when it comes time to pick a winner against the spread. Banking on the Patriots to win by at least a touchdown isn't something the swarm collectively feels great about, with a lot of dissenters erring on the side of Tampa Bay. If you're considering a last-minute bet, proceed with the most extreme caution.
The game kicks off 1 p.m. Eastern Sunday on CBS.
A.I. bots can now predict the future, two seconds at a time. Check out this video to find out more.