NASA's Attempts at Building a Parachute for a Mars Landing Have Been Fascinating Failures
But we're gathering valuable data to eventually get us safely to the red planet.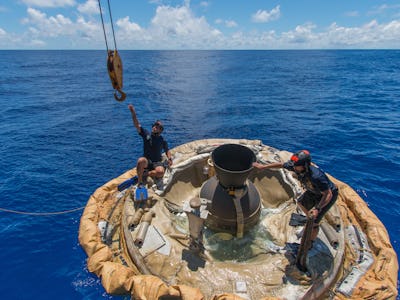 www.nasa.gov
Audible groans could be heard from mission control when at about 180,000 feet above the earth's surface, the newly designed parachute on NASA's Low Density Supersonic Decelerator failed and disintegrated in mid-flight.
This is the second test of a chute design after a first test last year, and it's the second time the chutes have been shredded to pieces on the craft's descent.
The LDSD's main purpose was to test braking capabilities on landers that could potentially bring manned missions to Mars. Like the first test last year, all systems on yesterday's test had gone according to plan — including a massive weather balloon that lifted the craft to 120,000 feet and its Supersonic Inflatable Aerodynamic Decelerator (SAID) being deployed to slow the craft's supersonic speeds — except for the parachute.
Based on the test Monday, a mission to the red planet using the tech on board would have crash-landed on Mars' surface. The Pacific Ocean makes a much cushier resting place.
A year ago, when a parachute design called the "Disksail" similarly ripped apart. NASA engineers modified it into a more sharply arched motif they dubbed the "Ringsail," which supposedly made the LDSD sturdier for its trip back down to the earth's surface. Still, the structure couldn't hold.
Ahead is one more try. Another launch test is scheduled for next year, and between now and then NASA will undoubtedly learn as much as possible from this failure. The LDSD was equipped with a black box that constantly gathered data about the test. It would have been unbelievably awesome to confirm that we have a potential way to land safely on Mars based on the launch yesterday, but we'll just have to wait. Groundbreaking work takes time and patience, and Mars will be there when we're ready to head there safely.