The Flash is a Fan Favorite at 'Justice League' After Test Screenings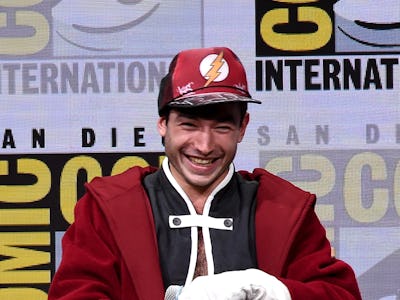 Getty Images / Kevin Winter
Since practically everybody loved Wonder Woman, the titular Amazonian seemed most likely to steal the show in Justice League. But, apparently, another character will be running his way into our hearts in the superhero team-up film.
On Wednesday, at the National Association of Theater Owners Fall Summit, DC Films co-chairman Geoff Johns presented a new trailer for Justice League and talked a bit about the film. Based on a tweet from Regal Cinemas' VP of Media Chris Sylvia, which has since been deleted, Johns said that the Flash (played by Ezra Miller) is everyone's favorite character coming out of test screenings.
From what we've seen of the character in trailers, it's easy to see why so many people supposedly like the Flash. He's the most inexperienced when it comes to actual combat — "I've just pushed people and run away" — is in awe of his fellow Leaguers, and just seems like a big dork, so to some degree he probably acts as an audience surrogate and source of humor. Still, in a film that includes essentially a rockstar version of Aquaman (Jason Mamoa), a newly hopeful Batman (Ben Affleck), and the already awesome Wonder Woman (Gal Gadot), it's impressive that the Fastest Man Alive is such a clear standout.
The global verdict on the best Justice League hero will have to wait until November, but for now, it's reassuring that DC doesn't seem to be just doubling down on Wonder Woman after her film finally gave the DC Extended Universe a cut and dry win.
Justice League will premiere in the U.S. on November 17.