Revealed: Shell Electric Car Chargers Look Like Future Gas Pumps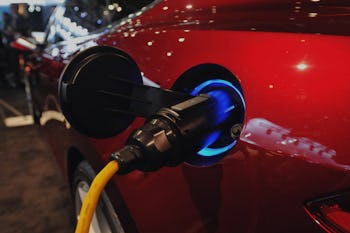 Getty Images / Bryan Mitchell
Shell, one of the largest oil and gas companies in the world, is going electric. Photos uploaded this week show how the company's new electric car chargers look in reality — and it looks like something out of a sci-fi film.
The company announced back in February its plans to bring chargers to gas stations in the United Kingdom and Netherlands, the two countries that host its global operations. It's part of a major plan to support the electric driving future, and Shell sees an opportunity to sell snacks and other goods to drivers waiting for their vehicle to recharge.
"We have a number of countries where we're looking at having battery charging facilities," John Abbott, Shell director of downstream business, told the Financial Times in February. "If you are sitting charging your vehicle, you will want to have a coffee or something to eat."
The Shell Recharge stations, as they are branded, are 50 kWh direct current chargers that can recharge a car's battery to around 80 percent in 30 minutes. The stations will initially be available at 10 service stations this year in the United Kingdom, around the London, Reading and Derby areas. They support Chademo, CCS and AC Type 2 charging connectors, and the company plans to provide Tesla adaptors in the future.
Dave Davies, a Tesla owner, shared some of the first images of the recharge points on his Twitter account Sunday:
While initially the charging will cost 25p per kWh (34¢), this is expected to rise to 49p (66¢) after June 31, 2018. By comparison, Tesla's own network of high-powered superchargers costs 20p per kWh (27¢). The base level $74,500 Tesla Model S with a 259-mile range has a battery with a 75 kWh capacity, meaning a full recharge should cost less than £20 ($27) from the Shell stations.
Shell has big plans for the electric vehicle future. On Thursday, Reuters reported that the company plans to invest up to $1 billion per year into new energy technologies, exploring ideas like smart charging for electric vehicles that could even out demand across the electricity grid.
"We are also co-developing models to help customers manage their energy use better," Mark Gainsborough, executive vice president of Shell's New Energies division, is expected to say in a speech in Amsterdam on Thursday.
If you liked this article, check out this video about spherical tires for self-driving cars.