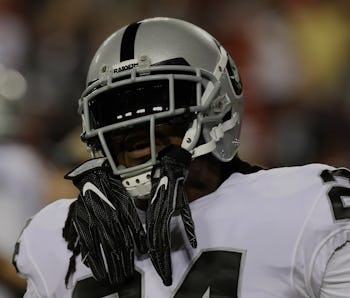 Innovation
Who Will Win Oakland Raiders vs. Denver Broncos? A.I. Predicts
AFC West rivals look to rebound after upset losses.
Getty Images / Rob Carr
Both the Denver Broncos and Oakland Raiders picked up their first losses of the season last week, undercutting the previously ironclad argument that the AFC West was the best division in the NFL. One of these teams can get back on track this week, and a hive mind of more than 35 NFL fans think it's going to be Denver, picking the Broncos to win Sunday.
The upset losses for both teams last week were fairly shocking, with Washington crushing the Raiders 34-17 and the Buffalo Bills beating Denver 26-16. It would be a hell of a statement for the Raiders to beat the Broncos Sunday, considering the game is in Denver, where the team is tied for the NFL's best home record at 21-5 since the start of the 2015 season.
Subscribe to the Inverse newsletter. Trust us, we're from the future.
To predict the result of this and other games, Unanimous A.I. used what's known as swarm intelligence to forecast the week's slate. More than 40 NFL fans worked together as a hive mind to make picks. As you can see in the animation below, each participant controlled a little golden magnet and used it to drag the puck toward the answer they thought was the most likely outcome. As the users saw the puck move toward a particular outcome, it triggers a psychological response. They readjust their decision-making, building toward a consensus. Here's Unanimous A.I. founder Lloyd Rosenberg explaining swarm intelligence at a recent TEDx Talk.
Unanimous A.I. has made some scarily accurate predictions in the past using swarm intelligence, as our previous article explains. Most recently, the swarm went a perfect 7-0 in its most recommended picks for last week's English Premier League slate.
The swarm took some time to think this one through, with lots of divided opinion on the result, but the ultimate pick was Denver with low confidence. The collective brainpower of 79 percent is low but actually better than one might expect, given all that wavering at the outset.
The swarm seemed to consider picking Oakland for a moment there, but ultimately the hive mind moved relatively swiftly to take the Broncos to beat the spread, with 76 percent collective brainpower behind the low confidence pick. That's a very uncertain pick, for what it's worth.
The game kicks off 4:25 p.m. Eastern Sunday on CBS.