Who Will Win San Francisco 49ers vs. Arizona Cardinals? A.I. Predicts
The 49ers look for their first win as they face an NFC West rival.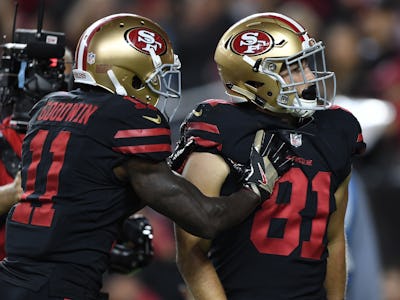 Getty Images / Thearon W. Henderson
The San Francisco 49ers came so close to getting their first win last week against the Los Angeles Rams, losing 41-39. Can they break through this week against another divisional rival when they visit the Arizona Cardinals? A hive mind of more than 35 NFL fans aren't so sure, picking the Cardinals to win a squeaker Sunday.
First-year 49ers head coach Kyle Shanahan is still looking to get on the board with the first victory of his career. The fourth coach in as many years for San Francisco, Shanahan wasn't able to replicate the (very limited) initial success of previous one-and-done coaches Jim Tomsula and Chip Kelly, both of whom won their opening games before going on long losing streaks — 13 straight defeats in Kelly's case. Yeah, it's not been great for a while in San Francisco, basically.
Subscribe to the Inverse newsletter. Trust us, we're from the future.
To predict the result of this and other games, Unanimous A.I. used what's known as swarm intelligence to forecast the week's slate. More than 40 NFL fans worked together as a hive mind to make picks. As you can see in the animation below, each participant controlled a little golden magnet and used it to drag the puck toward the answer they thought was the most likely outcome. As the users saw the puck move toward a particular outcome, it triggers a psychological response. They readjust their decision-making, building toward a consensus. Here's Unanimous A.I. founder Lloyd Rosenberg explaining swarm intelligence at a recent TEDx Talk.
Unanimous A.I. has made some scarily accurate predictions in the past using swarm intelligence, as our previous article explains. Most recently, the swarm went a perfect 7-0 in its most recommended picks for last week's English Premier League slate.
The swarm might have picked Arizona only with low confidence, but look where most of the hive mind's dissent is coming from — a lot of others just wanted to pick Arizona with high confidence. There's not very many who see this as a 49ers win.
You can see how evenly spit the swarm was when picking with the spread. The eventual 76 percent brainpower behind the low confidence choice of San Francisco isn't actually as bad as one might guess based on that initial indecision, but this is still a game to be very careful with.
The game kicks off 4:05 p.m. Eastern Sunday on Fox.