Who Will Win New York Giants vs. Tampa Bay Buccaneers? A.I. Predicts
The Giants are desperate to get a win on the board.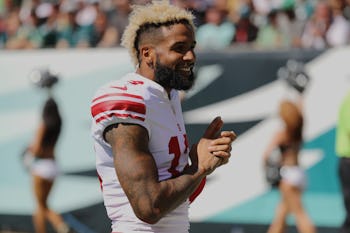 Getty Images / Abbie Parr
The winless New York Giants have looked bad so far this season, managing an NFC low 37 points through their first three games. They at least lost close last week, and they hope to avoid total disaster against a growing Tampa Bay Buccaneers team. A hive mind of more than 35 NFL fans aren't feeling the Giants on Sunday, picking Tampa Bay to win at home.
Because of Hurricane Irma, the Buccaneers have still only played two games this season, and last week's was a stinker, as they lost 34-17 to a Case Keenum-quarterbacked Minnesota Vikings team. At least the Buccaneers have shown signs that they can put together a competent offense, something the Giants — even with star wide receive Odell Beckham Jr. — have struggled mightily to do.
Subscribe to the Inverse newsletter. Trust us, we're from the future.
To predict the result of this and other games, Unanimous A.I. used what's known as swarm intelligence to forecast the week's slate. More than 40 NFL fans worked together as a hive mind to make picks. As you can see in the animation below, each participant controlled a little golden magnet and used it to drag the puck toward the answer they thought was the most likely outcome. As the users saw the puck move toward a particular outcome, it triggers a psychological response. They readjust their decision-making, building toward a consensus. Here's Unanimous A.I. founder Lloyd Rosenberg explaining swarm intelligence at a recent TEDx Talk.
Unanimous A.I. has made some scarily accurate predictions in the past using swarm intelligence, as our previous article explains. Most recently, the swarm went a perfect 7-0 in its most recommended picks for last week's English Premier League slate.
The swarm isn't at all certain about this one. You can see that nobody has high confidence the Giants will win, but all three other positions are well-represented, with a low 72 percent of the swarm's collective brainpower ultimately going with the Buccaneers, albeit with low confidence.
It's a similar story when the spread is involved, though here nobody seems to want to pick the Buccaneers to cover with high confidence either. Given Tampa Bay just needs to win by more than a field goal, it's perhaps understandable the same swarm that picked them to win outright would also opt for them to cover.
The game kicks off 4:05 p.m. Eastern Sunday on Fox.