Who Will Win Philadelphia Eagles vs. L.A. Chargers? A.I. Predicts
Can the Chargers finally get their first Los Angeles win?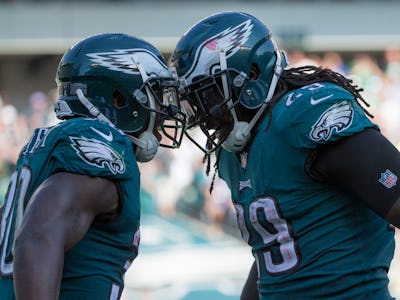 Getty Images / Mitchell Leff
Nothing about the Chargers' move to Los Angeles has gone well so far. The team is playing in a tiny soccer stadium that is still largely empty, and while it hasn't played terribly, the team is still searching for its first win of its new era. A hive mind of more than 35 NFL fans don't think this is the Chargers' week either, picking the visiting Philadelphia Eagles to win Sunday.
The Eagles have looked solid enough in the season's opening weeks, sharing the lead in the NFC East on the strength of wins over their divisional rivals in Washington and New York. But last week's win over the Giants came down a last-second field goal, so theirs is a relatively suspect 2-1 record. If the Chargers want to avoid the hole of an 0-4 start, they will need to bring all they can in Los Angeles.
Subscribe to the Inverse newsletter. Trust us, we're from the future.
To predict the result of this and other games, Unanimous A.I. used what's known as swarm intelligence to forecast the week's slate. More than 40 NFL fans worked together as a hive mind to make picks. As you can see in the animation below, each participant controlled a little golden magnet and used it to drag the puck toward the answer they thought was the most likely outcome. As the users saw the puck move toward a particular outcome, it triggers a psychological response. They readjust their decision-making, building toward a consensus. Here's Unanimous A.I. founder Lloyd Rosenberg explaining swarm intelligence at a recent TEDx Talk.
Unanimous A.I. has made some scarily accurate predictions in the past using swarm intelligence, as our previous article explains. Most recently, the swarm went a perfect 7-0 in its most recommended picks for last week's English Premier League slate.
The swarm doesn't feel good at all about the home team here. While the hive mind gave high confidence to the Eagles pick, it was with only 78 percent collective brainpower, which isn't super high, and at least some portion of the dissenters were instead opting for the Chargers.
The addition of the betting line actually made the swarm more certain. A one-point line is basically just a pick-em — the only way the Chargers could cover and not win is with a tie — but for whatever reason the swarm felt way better about this pick, putting high confidence and 87 percent brainpower behind the choice.
The game kicks off 4:05 p.m. Eastern Sunday on Fox.
If you liked this article, check out this video of Google DeepMind teaching its A.I. how to dream.