Who Will Win Los Angeles Rams vs. Dallas Cowboys? A.I. Predicts
Are the Rams ready to become an offensive juggernaut?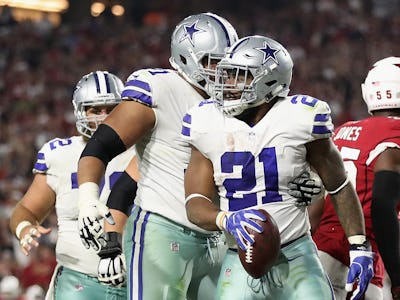 Getty Images / Christian Petersen
The Los Angeles Rams received some mockery last season when number one overall draft pick Jared Goff failed to make headway up the quarterback depth chart. But after a 41-39 shootout win last week over the San Francisco 49ers, Goff and the Rams offense are looking good. Too bad a hive mind of more than 35 NFL fans don't think it will be enough to beat Dallas on the road Sunday, as it has picked the Cowboys to win.
Maybe it's just the swarm taking issue with the Rams reviving the high-octane offense of their Greatest Show on Turf days long after they left St. Louis and said turf of the old Edward James Dome behind. Or maybe it's just that Dallas was a playoff team last year and has looked mostly decent this year, whereas the Rams have more work to do before fully earning fans' respects.
Subscribe to the Inverse newsletter. Trust us, we're from the future.
To predict the result of this and other games, Unanimous A.I. used what's known as swarm intelligence to forecast the week's slate. More than 40 NFL fans worked together as a hive mind to make picks. As you can see in the animation below, each participant controlled a little golden magnet and used it to drag the puck toward the answer they thought was the most likely outcome. As the users saw the puck move toward a particular outcome, it triggers a psychological response. They readjust their decision-making, building toward a consensus. Here's Unanimous A.I. founder Lloyd Rosenberg explaining swarm intelligence at a recent TEDx Talk.
Unanimous A.I. has made some scarily accurate predictions in the past using swarm intelligence, as our previous article explains. Most recently, the swarm went a perfect 7-0 in its most recommended picks for last week's English Premier League slate.
The swarm only had 81 percent of its brainpower behind the low confidence Dallas pick, but look where a lot of the other magnets are: If you combine the high and low confidence Cowboys picks, pretty much nobody thinks the Rams will win this one.
That said, there's way more support for the Rams to keep it to within less than a touchdown. The support for Dallas to beat the spread here is tepid at best, with just 70 percent brainpower behind that low confidence pick.
The game kicks off 1 p.m. Eastern Sunday on Fox.