Who Will Win Cincinnati Bengals vs. Cleveland Browns? A.I. Predicts
The Bengals offense woke up, but can they now win?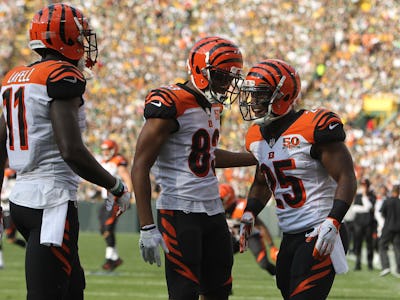 Getty Images / Dylan Buell
Both of the NFL's Ohio teams are still searching for their first win of the season when they meet Sunday. As bad as the Cincinnati Bengals have looked this season, a hive mind of more than 35 NFL fans still think they are more likely to prevail, picking them to win against the Browns in Cleveland.
That's perhaps a final gasp of residual respect for the Bengals, who at least have a track record of recent success before their horrific 0-3 start this year. Maybe it's also that Cincinnati's offense wasn't a total trainwreck last week, but still, that's not a lot to go on. The Browns, by contrast, have actually looked considerably improved from last year, even if they couldn't beat a bad Colts team last week in a gave in which they were actually favored. And, of course, if the Browns flirted with 0-16 last season, there's a lot of improving they can do while still being pretty awful.
Subscribe to the Inverse newsletter. Trust us, we're from the future.
To predict the result of this and other games, Unanimous A.I. used what's known as swarm intelligence to forecast the week's slate. More than 40 NFL fans worked together as a hive mind to make picks. As you can see in the animation below, each participant controlled a little golden magnet and used it to drag the puck toward the answer they thought was the most likely outcome. As the users saw the puck move toward a particular outcome, it triggers a psychological response. They readjust their decision-making, building toward a consensus. Here's Unanimous A.I. founder Lloyd Rosenberg explaining swarm intelligence at a recent TEDx Talk.
Unanimous A.I. has made some scarily accurate predictions in the past using swarm intelligence, as our previous article explains. Most recently, the swarm went a perfect 7-0 in its most recommended picks for last week's English Premier League slate.
The swarm only has low confidence in the Bengals to win, but you can see the hive mind moves pretty decisively to make the pick, with an okay 79 percent collective brainpower behind the choice.
And again, if the Bengals are the pick to win on the road, no particular reason for the swarm to not also pick them to win by at least four points and cover the spread. Again, the swarm is far from fully united here, with the collective brainpower down to 75 percent.
The game kicks off 1 p.m. Eastern Sunday on CBS.