Who Will Win Buffalo Bills vs. Atlanta Falcons? A.I. Predicts
The Bills look for a second straight big win.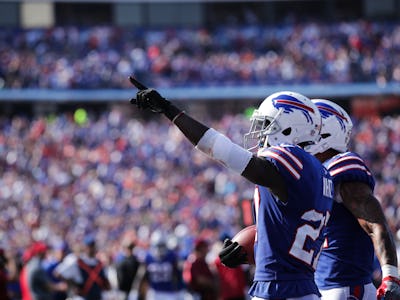 Getty Images / Brett Carlsen
The Buffalo Bills got a signature win last week when they knocked off the Denver Broncos. Can they beat another recent Super Bowl team when they travel to Atlanta this Sunday to face the Falcon? A hive mind of more than 35 NFL fans isn't yet ready to back the Bills, picking the Falcons to come out on top.
The Atlanta Falcons haven't always won pretty, but they are undefeated as they enter the season's fourth week. That's not nothing, considering just how common Super Bowl hangovers have been for losing teams — and no teams has ever lost a Super Bowl harder than the Falcons did. The Bills are looking more than respectable at 2-1 on the year, so both teams have real potential here to make a statement with a big win.
Subscribe to the Inverse newsletter. Trust us, we're from the future.
To predict the result of this and other games, Unanimous A.I. used what's known as swarm intelligence to forecast the week's slate. More than 40 NFL fans worked together as a hive mind to make picks. As you can see in the animation below, each participant controlled a little golden magnet and used it to drag the puck toward the answer they thought was the most likely outcome. As the users saw the puck move toward a particular outcome, it triggers a psychological response. They readjust their decision-making, building toward a consensus. Here's Unanimous A.I. founder Lloyd Rosenberg explaining swarm intelligence at a recent TEDx Talk.
Unanimous A.I. has made some scarily accurate predictions in the past using swarm intelligence, as our previous article explains. Most recently, the swarm went a perfect 7-0 in its most recommended picks for last week's English Premier League slate.
The hive mind is all in on Atlanta here, with 93 percent of the swarm's collective brainpower picking the Falcons with high confidence. That's not the biggest lock of the week, but it's damn close.
An eight-point line means the Falcons must win by at least two scores to cover, which is a big amount to bet on. It's understandable then that the swarm is only willing to make this pick with low confidence and 79 percent brainpower, though you can see a good chunk of the dissenters just wanted to pick the Falcons to cover with high confidence.
The game kicks off 1 p.m. Eastern Sunday on CBS.
If you liked this article, check out this video of Google DeepMind teaching its A.I. how to dream.