One Big Way the 'Avatar' Sequels Will Not Be Like the Original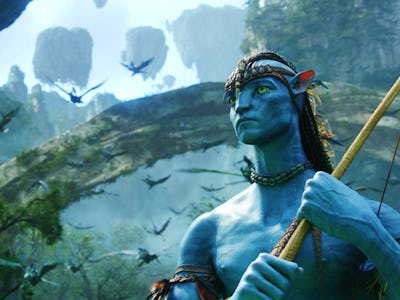 20th Century Fox
Apparently, quite some time will have passed between the first and second Avatar films. In Avatar 2, former human Jake Sully and Neytiri's three kids will be running around. And together with other Na'vi and human children, they're going to play an important role in the upcoming sequels.
On Wednesday, Entertainment Weekly put out an image featuring the actors who will play the offspring of Jake (Sam Worthington) and Neytiri (Zoe Saldana), a child born in the Hell's Gate military complex, and children from another Na'vi clan — the Metkayina — who live on giant atoll reefs. The kids will be played by Britain Dalton, Trinity Bliss, Jamie Flatters, Filip Geljo, Bailey Bass, Jack Champion, and Duane Evans Jr.
Speaking to EW in that same article, producer Jon Landau discussed the addition of the younger generation as major characters, something which the previous film didn't do. "We never had this youthful element before, and that brings a different kind of energy to the film," Landau said. "They represent the future generation of Pandora and play a very significant role — not just in this movie but throughout all the movies."
Whether or not the addition of children changes things up in a positive way remains to be seen, but at the very least, Landau thinks the sequel will be great. "Nobody is watching Avatar [on home video] or waiting in four-hour lines at Disney's World of Avatar or going to the sold-out Cirque du Soleil shows because of the film's 3-D," Landau said. "People respond because of the movie's characters, themes, and emotions—and we have all that again. When the cast read what Jim Cameron wrote [for the sequels], it hit them with even greater resonance than the first movie."
Despite the long, long wait for Avatar 2, it will still be a while yet until audiences can decide for themselves what focusing on the younger generation means for the franchise. Regardless, though, it's good to see the Avatar creative team being willing to make changes to a formula that earned them over $2 billion at the box office the first time around.
Here are the scheduled release dates for the four upcoming Avatar sequels:
Avatar 2: December 18, 2020
Avatar 3: December 17, 2021
Avatar 4: December 20, 2024
Avatar 5: December 19, 2025