Turns Out Yoda Didn't Believe Luke Skywalker Was the 'Chosen One'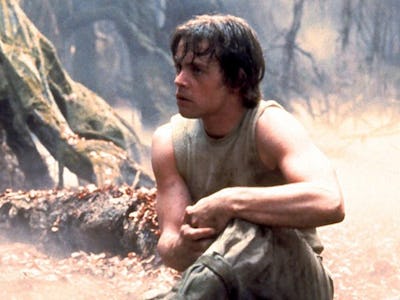 Lucasfilm
It's no wonder Yoda spent so much time being difficult and throwing Luke Skywalker's things around on Dagobah during Star Wars: The Empire Strikes Back — he was expecting the other twin.
As reported by Comicbook.com on Thursday, Star Wars: From a Certain Point of View, the upcoming book from Lucasfilm that tells 40 previously unknown Star Wars stories, reveals that Yoda thought Leia (not Luke) was the Chosen One.
"There Is Another," one story in From a Certain Point of View, reportedly says that Obi-Wan Kenobi's Force ghost told Yoda to stick around a while longer so he could train the Chosen One. Yoda replies that he's excited to begin working with "her," indicating that he was expecting a princess and senator to show up in his swamp, not a farm boy.
Of course, Anakin Skywalker turned out to be the Chosen One — the Jedi who would defeat the Sith and bring balance to the Force — after all in Star Wars: Return of the Jedi, defeating Emperor Palpatine in order to save his son from certain death.
There's a good chance Leia might have actually succeeded if she had been the one Obi-Wan chose to look after rather than staying on Tatooine with Luke. But, hey, Luke gave it his all.
Star Wars: From a Certain Point of View will be available in bookstores and online on October 3.
If you liked this article, check out this video of Luke Skywalker's many, many questions in Star Wars.