Who Will Win Dallas Cowboys vs. Arizona Cardinals? AI Predicts
Two former NFC East rivals meet.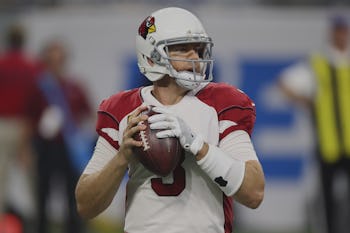 Getty Images / Gregory Shamus
The Dallas Cowboys hit a major roadblock last week in a blowout loss to the Denver Broncos. The Arizona Cardinals are trying to stay afloat after an injury to star running back David Johnson. Who will come out on top Sunday? A hive mind of more than 30 NFL fans likes the Cowboys to win.
The Cowboys have been on both sides of convincing wins this season, swapping a 19-3 victory over the Giants for that rout at the hands of the Broncos. The Cardinals only squeaked by the lowly Colts last week, which takes at least a little bit of the pressure off as they retool their team on the fly in Johnson's multi-week absence.
Subscribe to the Inverse newsletter. Trust us, we're from the future.
To predict the result of this and other games, Unanimous A.I. used what's known as swarm intelligence to forecast the week's slate. More than 40 NFL fans worked together as a hive mind to make picks. As you can see in the animation below, each participant controlled a little golden magnet and used it to drag the puck toward the answer they thought was the most likely outcome. As the users saw the puck move toward a particular outcome, it triggers a psychological response. They readjust their decision-making, building toward a consensus. Here's Unanimous A.I. founder Lloyd Rosenberg explaining swarm intelligence at a recent TEDx Talk.
Unanimous A.I. has made some scarily accurate predictions in the past using swarm intelligence, as our previous article explains.
The swarm isn't feeling great about this one, with just 76 percent of its collective brainpower behind the eventual low confidence pick in the Cowboys. You can see there are magnets all over for this one, suggesting a relatively big mix of opinion on how this one is going to play out.
Similarly, the hive mind isn't exactly jumping at the chance to bet on either team here, settling on Dallas winning by more than a field goal on the road. Here the collective brainpower is at just 72 percent, so this is about as weak a pick as you get that can still even be considered a pick at all.
The game kicks off 8:30 p.m. Eastern Monday on ESPN.