Who Will Win Oakland Raiders vs. Washington? AI Predicts
Time for another Marshawn Lynch appreciation.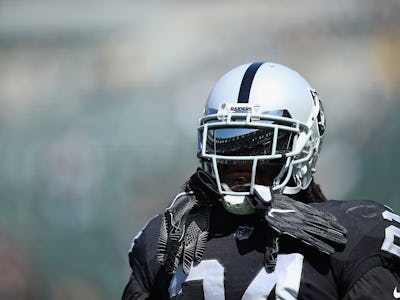 Getty Images / Ezra Shaw
The Oakland Raiders are, until further notice, the Marshawn Lynch show, even if the man known as Beast Mode was a relatively minor part of the team's 45-20 victory over the awful New York Jets. They face a tougher test this week against Washington, but a hive mind of NFL fans thinks Lynch and the Raiders have got this, confidently picking them to win.
The NFL's Skittles-loving, media-avoiding folk hero had just 45 yards and a touchdown last week, so look to see if he can pick the pace back up against Washington's relatively stingy run defense. For the record, we absolutely know we're inflating Marshawn Lynch's relative importance in this game. We are very all right with doing that. We're just so glad Beast Mode is back in our lives.
Subscribe to the Inverse newsletter. Trust us, we're from the future.
To predict the result of this and other games, Unanimous A.I. used what's known as swarm intelligence to forecast the week's slate. More than 40 NFL fans worked together as a hive mind to make picks. As you can see in the animation below, each participant controlled a little golden magnet and used it to drag the puck toward the answer they thought was the most likely outcome. As the users saw the puck move toward a particular outcome, it triggers a psychological response. They readjust their decision-making, building toward a consensus. Here's Unanimous A.I. founder Lloyd Rosenberg explaining swarm intelligence at a recent TEDx Talk.
Unanimous A.I. has made some scarily accurate predictions in the past using swarm intelligence, as our previous article explains.
The swarm is feeling pretty good about the Raiders, with almost everyone picking them to win on the road with either high or low confidence. Take a look at the upper right of the screen: Nobody is highly confident Washington will win.
Similarly, there's a ton of confidence that Oakland is going to win by more than a field goal and cover the spread. The swarm's collective brainpower of 82 percent could be higher, but when most of the dissent just had low confidence that the Raiders will cover, this is a relatively safe pick.
The game kicks off 8:30 p.m. Eastern Sunday on NBC.