Who Will Win Atlanta Falcons vs. Detroit Lions? AI Predicts
Two undefeated teams meet Sunday.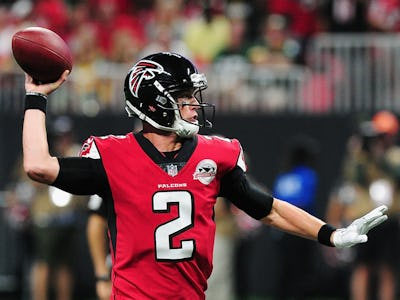 Getty Images / Scott Cunningham
The Atlanta Falcons have so far avoided the dreaded Super Bowl hangover with a pair of solid wins to start the season. The Detroit Lions have avoided the hangover of, well, several decades of being the Detroit Lions with a couple nice wins of their own. But only one team can stay undefeated when they meet Sunday, and a hive mind of more than 30 NFL fans like the Falcons to emerge victorious.
Atlanta would be well within its rights to be experiencing the all-time worst Super Bowl hangover, given the 25-point lead they blew to the Patriots back in February. But so far that hasn't been the case, with good victories over the Chicago Bears and especially last week against the Green Bay Packers. The NFC North odyssey continues for a third straight week against the Detroit Lions.
Subscribe to the Inverse newsletter. Trust us, we're from the future.
To predict the result of this and other games, Unanimous A.I. used what's known as swarm intelligence to forecast the week's slate. More than 40 NFL fans worked together as a hive mind to make picks. As you can see in the animation below, each participant controlled a little golden magnet and used it to drag the puck toward the answer they thought was the most likely outcome. As the users saw the puck move toward a particular outcome, it triggers a psychological response. They readjust their decision-making, building toward a consensus. Here's Unanimous A.I. founder Lloyd Rosenberg explaining swarm intelligence at a recent TEDx Talk.
Unanimous A.I. has made some scarily accurate predictions in the past using swarm intelligence, as our previous article explains.
The swarm is feeling very good about Atlanta here, picking a Falcons victory with high confidence. While 79 percent collective brainpower isn't especially high, a lot of the hive mind's dissent came from those who still picked the Falcons, just with low confidence.
The line isn't too big for Sunday's game, with the Falcons only needing to win by more than a field goal to cover. Again, with only minimal trepidation, the swarm is behind Atlanta here.
The game kicks off 1 p.m. Eastern Sunday on Fox.