Who Will Win Denver Broncos vs. Buffalo Bills? AI Predicts
The Broncos look to build on early success.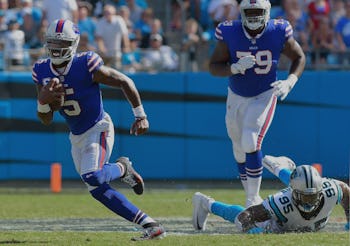 Getty Images / Grant Halverson
The Denver Broncos might have had the best win last week with their 42-17 stomping of the Dallas Cowboys. Can they keep their hot start going against a Buffalo Bills team still looking to distinguish itself? A hive mind of more than 30 NFL fans think so, picking the Broncos to win Sunday's game.
Fun bit of trivia for this game, at least if you're not a Denver or Buffalo fan: If you go through all 50 Super Bowls, there's nearly a one in five chance the losing team was either the Broncos or the Bills. The latter famously lost four Super Bowls in a row in the early 90s, while Denver has at least mixed in three victories to go along with its record-breaking five losses, including a victory in the Super Bowl two seasons ago. With quarterback Trevor Siemian developing nicely, the Broncos might be rounding back into that 2015 form.
Subscribe to the Inverse newsletter. Trust us, we're from the future.
To predict the result of this and other games, Unanimous A.I. used what's known as swarm intelligence to forecast the week's slate. More than 40 NFL fans worked together as a hive mind to make picks. As you can see in the animation below, each participant controlled a little golden magnet and used it to drag the puck toward the answer they thought was the most likely outcome. As the users saw the puck move toward a particular outcome, it triggers a psychological response. They readjust their decision-making, building toward a consensus. Here's how Unanimous A.I. founder Lloyd Rosenberg explaining swarm intelligence at a recent TEDx Talk.
Unanimous A.I. has made some scarily accurate predictions in the past using swarm intelligence, as our previous article explains.
This is one of the swarm's most assured picks of week three, with a whopping 92 percent of the hive mind's collective brainpower feeling highly confident that Denver will win. This is about as close to a lock as it gets.
As such, it's not too surprising the swarm likes Denver to cover the spread on the road, especially when it's just three points. The hive mind wasn't quite as confident in this one, with the collective brainpower behind the pick dropping to 86 percent, but that's still a very solid endorsement of the Broncos' chances.
The game kicks off 1 p.m. Eastern Sunday on CBS.
If you liked this article, check out this video of Bob Ross (and his "happy little trees") as seen through Google's DeepDream A.I. program.