Who Will Win Cleveland Browns vs. Indianapolis Colts? AI Predicts
This could be some exquisitely bad football.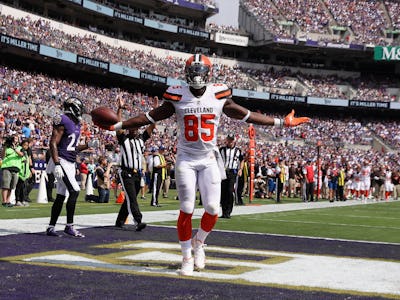 Getty Images / Rob Carr
A pair of winless teams go at it Sunday when the Cleveland Browns cross state lines to take on the Indianapolis Colts. With injured star quarterback Andrew Luck still weeks away from returning, the Colts are maybe the NFL's most hapless team, with the Browns not far from behind. A hive mind of more than 30 NFL fans do their best to pick a winner here, giving only their most tepid support to Indianapolis.
It's funny: It feels like this could be the most hilarious game of the season, at least for connoisseurs of bad football. But the Browns, even if they are yet to get on the board with a win, have been about as competent as you could hope for from an 0-2 team in the midst of a more than decade-long playoff drought.
Subscribe to the Inverse newsletter. Trust us, we're from the future.
To predict the result of this and other games, Unanimous A.I. used what's known as swarm intelligence to forecast the week's slate. More than 40 NFL fans worked together as a hive mind to make picks. As you can see in the animation below, each participant controlled a little golden magnet and used it to drag the puck toward the answer they thought was the most likely outcome. As the users saw the puck move toward a particular outcome, it triggers a psychological response. They readjust their decision-making, building toward a consensus. Here's how Unanimous A.I. founder Lloyd Rosenberg explaining swarm intelligence at a recent TEDx Talk.
Unanimous A.I. has made some scarily accurate predictions in the past using swarm intelligence, as our previous article explains.
As our friends at Unanimous A.I. point out, this game is the epitome of one to stay away from. The swarm wavered between two low-confidence picks, putting a staggeringly low 63 percent of its collective brainpower behind the eventual pick of Indianapolis.
That there's a one-point line at all suggests just how unsure everyone, including the Las Vegas bookmakers, are in the outcome of this game. As it is, the swarm feels a bit more confident about this pick, putting 82 percent of its brainpower behind the Colts. Really, all we'd recommend betting on here is some good old bad football wackiness.
The game kicks off 1 p.m. Eastern Sunday on CBS.