The 9 Craziest Failed Startups on Autopsy.io
Dancing on Silicon Valley's freshest graves.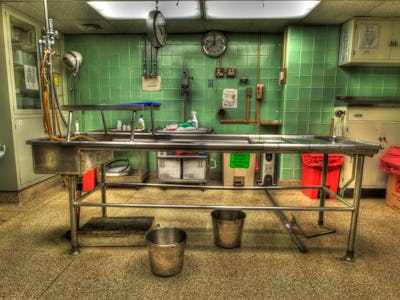 Flickr.com/bmward_2000
Autopsy.io, a no frills, all failure guide to defunct startups, quietly launched last Friday. Cofounder Niral Patel insists that his creation is less focused on gleeful Silicon Valley schadenfreude than on lessons learned, but it's still a great place to step back and gawk.
Here are the craziest ideas on the site.
1) Emjoyment: Tinder for jobs. Cause of death: Couldn't build a working job-matching algorithm.    
2) ComboCats: A multiplayer game platform (which, you know, is not that weird).Cause of death: "The Russia-Ukraine conflict," which is just the harshest. 
3) NewsTilt: A news platform that didn't pay journalists in money (or exposure). Cause of death: Didn't pay its journalists. 
4) Flowtab: Paying for bar tab with your phone. Cause of death: The app didn't actually save anyone time.. 
5) Kolos: An iPad gaming wheel. Cause of death: Solved a problem no one had..   
6) MyManual: Barcode scanning for custom home theaters (We don't know either…)Cause of death: Founder "Fucked up" but has NO REGRETS. 
7) PlayCafe: An online hub for TV-esque game shows. Cause of death: Not enough players.
8) Tigerbow: Send people physical gifts through Facebook (fun!) or Twitter (terrifying!). Cause of death: Premature launch.
9) HelloParking: An attempt to disrupt parking. Cause of death: Overdosed on pivots — described at various points as AirBnb, ZipCar and Groupon for parking.