Meet the Genital Fitbit That Will Coach Your Penis to Better Sex
No longer will you puzzle over your average thrusts per minute.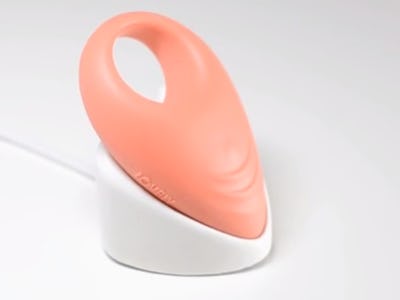 Indiegogo
I would suggest that if you're worrying about your average humping speed during sex, or calories burned, you display either a fearful bankruptcy of imagination or haven't met the right person. Still, if you insist on it, you can back this Indiegogo project for a sex wearable that will track all that and more. A lot of publications have taken to calling it "Fitbit for your penis" but I like "Map My Bang".
The Lovely, which looks like an egg with the yolk scooped out, has raised nearly $20,000 of its $95,000 goal. You loop this drip of rubber over your penis, set it to record, and after it gives you a breakdown of the coitus and some suggestions for improvement. Bit presumptuous, but there it is. It also vibrates to provide clitoral stimulation. 
The world's smartest cockring will ship in May, assuming it meets its funding goal. According to the project page, this was a longtime dream of founder Jakub Konik, a "serial entrepreneur" who "tested over one hundred different couple's rings prior to designing Lovely." Everyone needs a hobby.