Why Batman and Wonder Woman Make a Good Team in 'Justice League'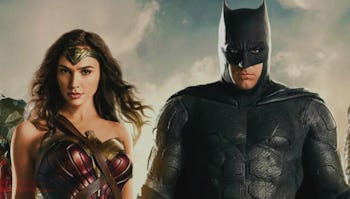 Warner Bros.
Going into Justice League, only two of the certified-alive Leaguers have worked together: Batman and Wonder Woman. And it looks like this pre-existing relationship could help when the Justice League goes up against Steppenwolf.
What Happened
In an interview with US Weekly published on Friday, Ben Affleck (Batman) and Gal Gadot (Wonder Woman) talked about where their characters heads are at in Justice League.
Notably, it seems like their team-up in Batman v Superman will give them a bit of an edge when it comes to battling Ciaran Hinds' Steppenwolf.
"Since they've fought together, they know each other's strengths," Gadot said. "They also understand the hope Superman stood for, that was lost [when he died], so they feel that more than the others."
What It Means
So, not only will Batman and Wonder Woman have knowledge of what the other can and can't do, but they'll share a connection in the wake of Superman's death, which will no doubt aid them in fighting. It would be cool if the film played up the contrast between how Batman and Wonder Woman work together versus the rest of the team, with a lot going unspoken when the two heroes fight alongside each other, compared to when other team members are involved.
What's Next
A team movie like Justice League was already going to have a lot of exciting shots of everyone working together. But Gadot's comments could signal that Batman and Wonder Woman may be a more well-oiled machine in combat. They were already working well together in BvS, so Justice League should be at a whole different level.
Justice League premieres in theaters on November 17.
If you liked this article, check out this video that asks the question: Is Wolverine circumcised?