The Best Rap And R&B Albums Coming Out This Summer
Rap and R&B releases to look forward to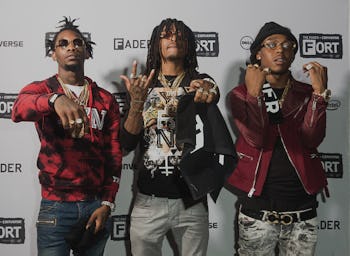 Roger Kisby via Getty Images
June
Bilal: In Another Life [June 30, Purpose/eOne]
Bilal revived his career with 2013's The Love Surreal, one of the year's best R&B releases. He looks to carry that momentum forward with his newest record. In it, Bilal teams up with Adrian Younge, who produced Ghostface Killah's 2013 Twelve Reasons to Die.
Miguel: Wildheart [June 30, ByStorm/RCA]
Miguel earned well-deserved critical acclaim for 2012's Kaleidoscope Dream, an album that pushed the sonic boundaries of R&B. Wildheart lead single "Coffee (Fucking)" is a softer song, offering the possibility of Miguel somehow getting even more sensual.
Vince Staples: Summertime '06 [Def Jam/Blacksmith/Artium]
Vince Staples's Summertime '06 should be an effort of irresistible darkness. Staples writes true-to-life street raps, but his earworm hooks can catch even the most casual listener. 
July
Hudson Mohawke: Lantern [July 1, Warp]
The G.O.O.D. Beats signee is releasing his first LP in six years. In that time, he has put out multiple EPs, collaborated with Lunice as TNGHT, and worked with Kanye West, most notably on Yeezus. For Lantern, though, Mohawke has taken a step back from the rap and EDM, promising a mellower record that is more true to himself.
The-Dream: Crown Jewel [July 10, Capitol]
Terius Nash (a.k.a. The-Dream) is a noted Prince revivalist. His upbeat tunes have an '80s flare that complements his falsetto. With Crown Jewel, however, Nash is planning more of a modern R&B album.
Migos: YRN Tha Album [July 31, 300 Entertainment/Quality Control/Atlantic]
Originally scheduled for a June release, but delayed following some legal issues, Migos' long-awaited debut album comes after a string of mixtapes and successful street-to-radio singles. The trio has crafted their own Migos Flow, a combination of shout rap and short-clip bars, but early single "One Time" finds the group experimenting with more melodic verses.
August
Method Man: The Meth Lab [August 21, Tommy Boy]
Method Man has stayed relatively quiet in recent years, which makes The Meth Lab an exciting return. His iconic voice sounds as fresh as ever. The Breaking Bad-themed trailer, in which (spoiler alert) Walter White has his brains knocked out with a hammer, only increases excitement.
Young Thug: HY!£UN35 [August 28, 300 Entertainment/Atlantic]
Young Thug already released a strong album in 2015 with the controversial Barter 6. In Drake fashion, however, Thug is calling Barter a mixtape, promising a true "studio album," HY!£UN35 (apparently pronounced "hi-tunes"). Always surprising, it'll be exciting to see the direction in which Thug takes his official debut following a diverse series of post-Barter leaks.
TBD
Kanye West: SWISH [Def Jam]
Kanye really does not want us to know a thing about what SWISH (f.k.a. So Help Me God) will sound like. There's the Auto-Tune "Only One" ballad to his daughter; there's the acoustic affair "FourFiveSeconds" with Rihanna and Paul McCartney; there's the street banger "All Day;" and there's the sparse super-duper Auto-Tuned "Wolves." After a groundbreaking album like Yeezus, even Kanye knows he needs something really special.
Lil Wayne: Tha Carter V [???]
The fifth and final installment of Lil Wayne's Tha Carter series was supposed to arrive last year. Then it got delayed. Then Lil Wayne sued Birdman. We're still waiting for the album to drop, and we don't know what label will have it, but from early singles "Believe Me" and "D'usse," we do know that a Lil Waynaissance is on its way.
Tink: Think Tink [Mosley/Epic]
Timbaland has set the bar high for the Chicago singer/rapper, dubbing her the next Aaliyah. Early mixtapes showed Tink's range as a straight-up R&B singer who could also hold her own on the mic; 2013's Boss Up was an old-school-style mixtape that saw Tink successfully freestyling over popular beats. With a national audience on deck, Tink is proving her range is far beyond even the rap/R&B world, completely owning the Tazer-produced "Wet Dollars" dance track.